Freeze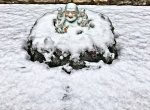 Fri, 05 Apr 2019
In the coldest winter for years
heaps of snow in hours,
white glittering crowns crouch
over trees, fence posts.
A diamante headgear
decorates the Buddha in my garden
and still no sign of you.
The streets became white,
ponds froze and rivers flowed faster.
Each time I think about you, 
memories flicker and soar, 
spring walks in Paris, warm nights in Spain,
I am shaking like the erratic snowfalls
and still no sign of you.
I cannot eat, I cannot work, my breath
is laboured, my world iced-up.
At night I hear the howling
of winter storms and watch
how space diminishes around me.
The moon hangs in the dark, a poker face,
and still no sign of you.
The cold sleeps in every artery,
freezes and thickens, clumps my brain, 
always in the shadows.
You have to light a fire
defrost and thaw me,
so very carefully and gently,
when you return.