Rain-drenched girl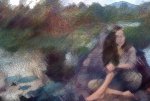 Mon, 04 Mar 2019
Rain-drenched girl
I have always loved the rain
when your curly hair is sparkling,
halo-like, studded with jewels
in a grey, mysterious world.
Moist crystals drip gently down
in the innate rhythm of heartbeat.
When you appear in this symphony,
in your white blouse, wetness
wrapped around your body in transparency,
I'm full of wonder, forget all the inconvenience,
wipe you dry, wring out your dress.
Nothing is as beautiful as a secret meeting
with my rain-drenched girl.