The Year of the Golden Pig 1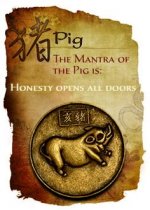 Sun, 30 Sep 2007
It was 10.32 on my plastic Casio. Early, by Bugis Street standards. 'Kate' stretched, the skin on her arms glowed topaz in the neon. She caught me looking and placed her hands demurely in her lap. Cho, or something like it, was her real name. Four years in the Lion City and I still spoke no Cantonese. She liked me to call her Kate, she said; so I did, whenever I kept her company, waiting for the next soldier, sailor or diplomat. It was quiet. Chinese New Year was lighting up other parts of the city. Not here; no need for fireworks with the neon overhead. The closed expression of the enforcers and pimps showed no emotion at the departure of the Golden Pig, and, in truth, theirs were the only really Chinese faces on view. The girls faces, of course, were hardly their own. Strange and sometimes dangerous lotions were religiously applied to obscure their ethnicity, and their sex.
I brushed some of her cigarette ash from the 'slacks: dress, brown or suitable discreet colour' my orders had listed as acceptable. Ludicrous, really: the Army's idea of undercover amounted to a civilian uniform. The KaiTai's were almost representative of Singapore's demographic. There were more Malays than there should have been, and fewer Chinese, but the one Indian hit the quota. Shirin was tonight's token.
'Dat man not good one, ah?'
'Which one?' I asked.
Singlish I could manage. Despite Lee Kuan Yew's edicts attempting to ban it, every Singaporean spoke it: 'Malay, Indian, Chinese,'or 'Other' as page one of my briefing read, when I'd arrived in Singapore.
'Don't shia pi! You never see him last night meh?'
Kate spat. Dangerously close to the man's feet.
I looked at him. Not a Brit. Not in those clothes. And therefore not my problem.
'No, I didn't. I was over at Orchard Road last night.'
Debriefing another drunk soldier. It had got worse since we'd officially left, in '71. One year later, there were a handful of RAF personnel at Tengah, The Gordons up at Changi and a few lucky shits on secondment to the Singapore Armed Forces, sending all their wages home and living on their generous allowances. And us, of course. SIB RMP, Special Investigations Branch, Royal Military Police. We dealt with drunk drivers, GBH, the occasional murder, and the other stuff: I did the other stuff. With the listening post at Seletar gone; there was a handful of spooks in the High Commission – military trained linguists. No stake in the reputation of the Foreign Office or the Diplomatic Service, and not glamorous enough for the real spooks to keep an eye on. So it fell to us; with our uniform civilian clothes. Every other westerner out on the town out in batik shirts and shorts, we were in tie, trousers and brogues.
'He drunk lye-dat, yesterday nighttime! Look for girl Jane! No Jane heah, lah!'
Shireen addressed this last to the man himself. He carried himself with the careful poise of the heroically drunk.
'Jane? Where is Jane?' 
Not American then, but almost. A Canuck? Could be one of mine, if so. Long hair though, for Singapore. Lee Kuan Yew had special treatment for hippies arriving on the Island; you cleared immigration via a barber's chair – or you got back on a 'plane at Paya Lebar airport.
The man peered into the face of every girl. We were sitting around five or six formica topped, round tables. The bar behind sent out expensive, cheap-tasting drinks to the odd European in the girls' company. He began to peer into my face, straightened up:
'Where's Jane? Come on, you must know Jane!' His teeth were expensive, gleaming in the night.
'Why don't you sit down? Calm down?' I waved in the direction of the bar doorway. Something would come out.
The waiter, Li, came out; with a syrupy, parasoled thing for the other guy, and a malt for me. One thing about being the conspicuous policeman; it paid for the drinks.
'Anything else Mistah Law?' Li didn't bother with Singlish, showing off or showing me I was an outsider, I supposed.
'Not just now, Li, thanks.'
The stranger lowered himself gently into the plastic chair and surrendered his poise to the alcohol at last. He slumped, the dark shadows under his eyes contrasting sharply with the new arrival's pale skin. He eyed the drink, wanting the alcohol - but not the taste, perhaps. Shireen, Kate and all the others were now showing me their backs. The inconsequential chatter had resumed and increased in volume. I was no longer part of their evening.
'Who's Jane?' I liked to start with the obvious question.
'That's not her real name.'
'Who goes by that here? Do you?' I looked keenly at him, trying to spot a tic, a liar's tell.
'Here I do. Baudelaire, John Baudelaire.' He held out a hand. I shook it.
'Law, Marshall Law.' I waited for the laugh. It didn't come.' Canadian?' I asked.
'Quebecois.' He seemed less drunk now, even though the tight control had gone.
He had a short-sleeved, military cut shirt in white cotton. Long pants, as he would have said. Sensible, smart - if scuffed - shoes. Dressed like me in fact, if you discount the lack of shoe polish.
'Who is Jane?' I tried again.
He looked like a man who'd survived the car-crash that killed his family.
'Jane is my son.' He said.