From Out a Window (I.P.)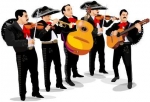 Tue, 10 Dec 2013
It is the small hours
in a Mexican town.
In the dark night
fireflies frolic
and compete with the stars;
cicadas converse
in a low monotone;
others souls slumber
awaiting the dawn.
In an elegant villa,
surrounded by hibiscus
and bougainvillea,
a lovesick señorita
looks down on the street
from out the window
of the top floor.
A band of mariachi
is assembled below.
They strum and warble
on behalf of a suitor.
Te quiero, they sing,
and her knees turn to jelly.
Although wide awake,
she must be dreaming.
© Luigi Pagano 2013