Definitely Not Just Another Dog Story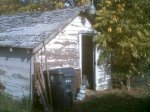 Sun, 16 Mar 2014
1 likes
Her old faithful bought it yesterday –
under the wheels of a dustcart.
Nine years she'd had him from a pup.
Tried to tell herself he was only a dog,
but when you're pushing eighty
you take your comfort in whatever guise
it comes.
Never mind.  Today at least she'd
have company.  An old friend popping
round for tea
and the washing-machine man 
was coming to fit that spare-part...again; 
third time lucky; fingers crossed, naturally.
Then the phone rings.  Her old friend
cancels – a terrible migraine; she'd
be round next week – God willing.
Puts her best china back on the shelf,
and then the phone, again.  The washing
machine man this time.  Once more they'd
sent the wrong part.  He'd be in touch
in the next day or so. 
Rinses out her smalls in the sink – picks up
a now defunct, half-chewed bone. Chucks it
in the wheelie-bin.  Puts some bread out
for the birds; this cold weather they ate
her out of house and home. 
The sun, doing a nose-dive...seems it too,
wanted the hell out of there.  Was it something
she'd said?
The door of the garden shed swings
back and forth on its hinges...beckoning, beckoning.
Knocks before she goes in...smiles to herself.
Old habits died hard, right enough. 
Fingers a box and lifts the lid; her husband's 
wood-working tools.  She'll just sit here 
for a bit....anything but go out in the dark.
Picks up a peg he'd whittled, just to pass
the time, warm still from the hands
gave it life.