The Girl Who Grew Horns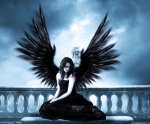 Sun, 25 May 2014
"You're so hypnotizing
Could you be the devil?
Could you be an angel?"
E.T. - Katy Perry
Faith stood outside the pub getting soaked in the rain, knowing her kind weren't welcome in there. Reckoned if she walked in, she'd send a few of the customers running in fear. With her hood up, it barely concealed her condition. The baggy clothes helped to hide her body to a degree, but it wouldn't be long before someone noticed her stooped gait, the way something twitched beneath her clothes. Then they'd look at her eyes, black as this night and just as miserable. At least the rain kept the smokers indoors, so there was no one out to stare at her, call her names. And the clouds meant extra darkness, more places for Faith to hide.
"Come on, Faith," Lisa said. She took hold of her hand and tried to pull her through the door. "They'll understand, be excited to see you after all these years."
Faith stared at Lisa with her huge black eyes and noticed the unease across her friend's face. "I've not seen anyone since school," she said, the rain almost drowning out her words. "What if I scare them?"
Lisa gave her a sympathetic smile, one that said she understood. How could she understand? It hadn't happened to her. Lisa didn't have to be taken out of school, move away to a new town because her parents were ashamed. Lisa didn't have to cope with the changes puberty brought her. Didn't wake up one day with two bumps on her forehead that grew at frightening speed into six inch black horns. Didn't struggle sleeping when the wings started to sprout from her shoulder blades. 
"Ryan's going to be there," Lisa said. 
Faith raised an eyebrow, took a tentative step towards Lisa. "I didn't know he was coming!" She stared down at the puddles in the cracked pavement and tried to hide the smile spreading across her face. They'd been dating when she'd moved away and his was the last kiss upon her lips. How she'd cried when she'd been taken away. Didn't believe it was for her own good. People like her had to hide themselves, her mother told her.
"They've been calling your kind Damned on the news," her mother had said. "They've been rounding 'em up, cutting off their horns and wings."
When the first few had developed the condition, the public went crazy. It was the end of times! Devils and Angels walked among the people. Better get on your knees, repent because they've come down to judge. Better hope your sorry arse is saved. There were riots in the cities, gangs rounding up children and burning them, slaughtering them. Parents mutilated their own children when they developed wings and horns. But of course, after all the pain and blood, they grew back. Damn things just grew back! 
Lisa pulled Faith in through the door and she kept close to Lisa, using her as a shield against prying eyes. She hadn't been out in public for a while and didn't think it a good idea. With the horns and wings came height and she tried to stoop lower, bringing herself down to an easy six feet. The pub was crowded, typical Friday night. Faith lowered her head, gazing around from under her hood. A group around her age crowded in one corner and a few waved Lisa over. Lisa waved back and laughed. She dragged Faith along behind her.
"I can't do this," Faith whispered, but Lisa wasn't listening. Faith recognised a few people, her eyes taking away the years until she saw the twelve year olds she had remembered. Her heart stopped when she noticed Ryan sat at a table nursing a pint. He still had that crocked grin and thick black hair, though it was short and sensible now. He looked up at Lisa and his eyebrows arched up just like they did when he was excited as a child. 
"Lisa!" he called out. He got to his feet and threw his arms around Lisa, planting a kiss on her cheek. 
Faith dropped her head further and glanced left and right, seeking out all the exits. She felt trapped, closed in with nowhere to run. Lisa joked and laughed with Ryan and Faith tried her best to fade into the background. Suddenly their laughter stopped and when she glanced up, Faith realised Ryan was staring right at her. 
"Hey, Ryan," Faith said. She grinned for a second, felt her face flush and stared down at the threadbare carpet. She felt like that shy school girl from long ago. 
Ryan stepped towards her. "Is that you, Faith?" His voice was soft, gentle. He looked under her hood. They locked eyes and for a second she imagined Ryan was going to kiss her. She closed her eyes, moistened her lips with her tongue and pouted. But Ryan pulled her hood back, revealing her black horns that curved upwards from her forehead. 
"Ryan, I-" Faith began. 
"You're one of them," he said. Then louder. "You're one of the Damned!"
The pub fell quiet and people turned to look at her. Faith found herself at the centre of a stage, a comedian who had just told a joke that no one laughed at. A singer who had forgotten the lyrics to her own song. She stared at Ryan, took in the pure hate in his face. She turned to Lisa for support, but found the gap between them had grown. Lisa looked at her until their eyes locked. Lisa turned away, her face red with embarrassment. 
Someone in the pub shouted, "Devil!" There was a murmur of agreement. Faith clenched her fists until her nails dug into the flesh and droplets of blood dripped down to the carpet. The boy who had given her that first kiss she'd never thought she'd want to forget until now screwed his face up at her in disgust. She reached out towards Ryan, but he backed away. She turned around, looked for a way out but was surrounded. They threw insults at her, the ones they would be arrested for saying. They didn't care.
"Demon!"
"Witch!"
Faith snarled at them all, unable to hold the anger. She felt it inside like a fire. And it grew, burning with an intensity that made her entire body shake. She straightened up above them to her full height, a head above the tallest man. The anger pulsed through to her wings and they burst out from her coat, ripping fabric as they tore free. The black wings fluttered open and she saw the look of fear in their faces. She walked towards the door, the crowd parting to allow her through. Her wings spread out like a huge cloak of night and her eyes gazed ahead. As she went, there was intense silence, eyes locked on her. As she walked, she controlled her breathing, fighting the rage waiting inside. 
"Hell bitch!" Ryan shouted. 
Faith stopped at the door, her hand poised to push it open. Her hand shook. The boy who had been her first and only love shouted at her again. A glass shattered against her wings and she flapped the splinters away. The barman shouted that she wasn't welcome. 
"Your kind belong in hell!" he shouted. She glanced sideways at the balding old man behind the bar and narrowed her eyes. With each taunt, she remembered their faces. Then she pushed the door open and disappeared into the night, rushing through the sheet rain. There were a few startled shrieks as she ran, her wings still extended fully. She caught her reflection in a shop window and stared. She wasn't sure if she looked like an angel or a devil. Evil or Good? 
The old paintings of devils and angels had been banned. No one wanted to accept there'd been people like Faith walking the Earth long ago. They'd been hunted down, persecuted through generations. Thou shalt not suffer a witch, after all. Their very existence had been written out of history, only surviving in art and religious texts. Not many thought of them as angels. It's the horns, she thought, staring at their perfect blackness. And the eyes. In the town she had moved to, she was known as the girl who grew horns, as though she had a choice in it. She sighed as the rain cooled her anger. Her wings folded down, the adrenaline that had opened them gone. 
"You're beautiful," a man said from behind. 
Faith turned and stared at him. He looked up at her, his eyes wide with wonder. "Do you really think so?" she asked, a half smile on her lips.
The man nodded, mesmerised by her. "Indeed. Angels walk among us."
"You're not afraid of me?"
The man shook his head. "No, of course not. Your kind are magnificent creatures."
Creatures. The word tasted sour and she spat it out. "You should be afraid of me," Faith said. "Am I angel or demon? Perhaps I'll rip you apart right here and you can decide for yourself." She hissed at him and spread her black wings out. The man turned and ran from her, glancing over his shoulder to make sure she wasn't following. Faith waited until he was out of sight and headed down a side alley, deep to the back where she could hide from everyone. It was the same everywhere she went. When men wanted to fuck her, she was an angel. When she told them no, then she was a devil. It was a lonely life, because they had to avoid people and their own kind. People didn't like to see her kind gathering in one place. Seven foot giants that looked both good and bad. Of course they were afraid of them.
She'd made a friend of one of her kind, a man who delighted in his wings and horns, refusing to hide them. His name had been Alex. He'd laugh at the taunts, revelled in the fear he caused among the so called normal people. "Don't ever feel bad for what you are, Faith," he'd told her. "Make those who taunt you feel bad." 
The rain eased and Faith crouched in the darkness. She looked out into the street, across the road towards the pub. No doubt they were all talking about the girl who grew horns. Ryan was probably telling them how he'd had a lucky escape because he'd once dated her at school. Had no idea what she would become. There she was, right under their noses, and they didn't know. 
They walk home hand in hand after school. It's one of those hot days that makes the tarmac on the road melt and a heat haze shimmers ahead. They stop at the end of her road and Faith stares down at her sandalled feet, white socks pulled all the way to her knees. She wonders if he's going to kiss her. When she looks up, Ryan draws in close and leans in for the kiss. Their lips lock together and their braces clink. Faith closes her eyes, never wanting that first kiss to end. But she has to come up for air and Ryan smiles at her. She thinks she's in love. When she runs home, unable to stop smiling, she vows she'll never forget that kiss. 
But when she wakes the next morning, she has two small bumps on her forehead. 
Faith waited in the dark until the first of the crowd left the pub. They split into groups and went their own way. She saw Lisa, joking and laughing with men and women who she remembered as boys and girls. Lisa, who had managed to find her after all these years and invited her to a reunion. Sweet Lisa who at first had flinched when she saw Faith as she stood shyly in front of her, revealing her wings and horns. She'd expected her to run, but she hadn't. 
"Doesn't matter," Lisa had said. "You're still Faith to me, that girl who up and left when we were just twelve." She reached up and touched her horns, ran her hand gently down her wings. 
Lisa hugged and kissed old school friends and said her goodbyes. When Ryan strolled from the pub, Faith tensed. Her wings opened and she felt the burning inside. She followed Ryan down the street as he walked all on his own. He didn't see her stalking him from the shadows, just out of his sight. She followed him all the way home, watched him go into his house. For a while she stood in his garden, looking up at his bedroom where light shone out. She was his garden angel tonight. When the bedroom light went out, she made her move. The back door wasn't looked. Careless of him. She slipped inside the sleeping house, crept upstairs and entered his bedroom. She stood at the end of his bed, wings fully extended, horns pointing down at Ryan Hill.
Ryan sensed a presence. He sat up in bed, saw the winged devil at the foot of his bed and went to scream. Faith was on him, smothering his mouth with her hand. She held a finger to her smiling lips and hushed him. "Sometimes I'm an angel, Ryan. But sometimes I'm a devil."
Ryan said something, but his words were muffled by her hand. His eyes bulged in fear and he tried to squirm away from Faith, but she pressed her hand firmer into his face. All the years of taunts came back to her. The persecutions, the abuse. Things hadn't changed and never would. Not while her kind sat back and let it happen. Alex had been right. She remembered that summer day, long ago when she had shared that first and last kiss. She released her hand from Ryan's mouth and leaned in, kissing him deeply. When she pulled away, Ryan gasped. Faith smiled. 
With one easy twist, she snapped Ryan's neck. He slumped down in the bed, his eyes staring blankly up at her. Faith sat with Ryan's body for a moment longer before she went out into the night. She touched her lips with the tips of her fingers, the warmth from Ryan's kiss still lingering. 
Now it really was a last kiss, she thought, unable to hide her grin. She rushed through the rain, remembering the face of everyone who had taunted her tonight, building a list of victims as she went.