Nettles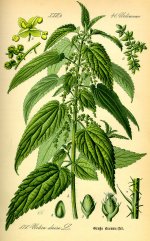 Fri, 13 Jun 2014
We cluster around the rusting tractor
We strangle the bottomless buckets;
We are too green, filled with the fertility of filth.
A massing army in the woodland glade
We tell a tale of fertilizer bags strewn here,
Or a dead fox.
In the gutter of the field-edge
Latrine of cattle, we suck up excrement,
To weave our banner of venomous silk
And build a barricade around the stile
Close around the footpath our thrusting forces
Barring passage.
We are vicious from our bastard birth
Each seedling a hidden burst of pain
We bind the flower beds with tough rope
And set a trap of soft leaves amongst legitimate plants
Our voiceless throats ache with desire for
Your sharp cry.