Creature Comforts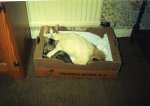 Tue, 19 Aug 2014
Within the lick of passing glow,
leaping with determination;
chasing moths vision ablaze,
as wings flutter without purpose.
A mischievous nature led her to me,
with charismatic features so compelling;
like gazing at the Northern lights...eyes
sparkling vivid with resolute awareness,
symbol of Motherhood never frightened her;
two lost kittens in presence she did rear,
cushioned by beating of a loving heart,
where dreams of butterflies in mind did flirt.
Weak was her fault, privileges she was never allowed,
though aspects of her were funny, nerves were frazzled;
suffering the cruel brother – sister assaults added pain,
but with me she found her peace of mind giving humility.