Dancing at The Dubliner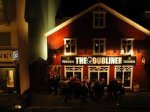 Wed, 24 Dec 2014
Take a walk with me down Reykjavik's high street.  The air is cold, but dry, so you can breathe easy.  Watch your step, the crunchy snow has been worn down to glassy ice, as it is night-time and everyone is here.  In and out of the cosy bars we go; each one individual and effortlessly stylish in that Nordic home-made way. 
Let's snack on spelt bread and gravlax, take in some jazz at the Kex Hostel.  The renovated biscuit factory makes a virtue of the industrial remnants; even the holes in the plaster look good.  Large parties of Icelandic families are having pre-Christmas meals, as the food is good; simple ingredients with complex flavours. People here have settled for the night, it has a stolid, comfortable feel, not really for us.
Gasp at the change of temperature and wade, crunch, slip along a side street, past the girls in short skirts and high shoes, smoking and laughing in groups, taking their break from festivities with a gasper.  Impossible to imagine how they will walk home in the morning; but of course, the morning will never come, there is only the night and revelry.
Into the Kaffibarim, clad in red, corrugated iron it is every inch an Icelandic icon, but wears a London underground badge.  London is as cool to the Icelandic as Reykjavik is to the British.  Inside the music, unusually, is not live, but a DJ plays a constant stream of sounds selected to subtly shift mood, unobtrusive yet pervasive.  Look around, everyone is nodding their heads to the same rhythm without even realising.  Here, impossibly-beautiful-androgynous-beings, wearing what must only be their own creations, sit alongside tweedy-jacketed-beardy-spectacled-American-professor-types; and us, in our sensible walking boots and double lined trousers, dressed for a night on the mountain; no one looks twice.  Mulled wine, lots of it, sweet and spicy, and soon the womb-like red of the walls and heart beat bass and perfumed air has us all lulled like a tightly-packed cradle of babes. Time for some fresh air.
Snaps, a glasshouse of a building, is full of welcoming lights, it has an airy feel.  Have to have a glass of clear Reyki here, and tap your feet along to the strumming of the troubadour; he works the bars by night, when he's not playing in the orchestra in that frozen cliff of a building, the Harpa.  No one and everyone is a celebrity here.
Now you must sample the local beer, yes, yes, I know Icelandic beer does not have a great reputation, but this is different, made in micro-breweries in faraway northern places; you can taste the purity.  So into Kaldi for home-knitted jumpers in soft colours of the land, that big bushy-beard and short hair combo sported by the young men, and the most delicious beer, even if you don't usually like beer.  A few songs around the piano and you're ready to wobble to the bottom of the hill.
Take your life in your hands as you slide across the highway, pass the drunken arguments that are beginning to break out and head down to the dark end of town, to the Dubliner.
An old iron barn of a place, it is an Irish pub; well every city claims to have one.  They're all waiting for us inside, didn't you know?  The word went out, 'His family are coming, actual parents.'  The bartenders are from all corners of the world and their families never come. Wait for the onslaught as we walk in and the cry goes up, 'They're, here! They're here!'  Some shyly smile and politely shake hands.  Some fling their arms around you, hugging tightly.  All wanting to touch you, in wonder for what you are; a symbol of home.
And yet this is home.  It does feel like home in this shabbiest of shabby bars.  The bartenders drink and dance with the customers, the talk never stops and you join in, caught up in the joy of the lives of others.  See your boy, incongruous, with his fine boned features, dark, dark hair and eyes, a slender elfin figure amongst these hearty ones. 
Everyone here is a musician, poet, artist, getter-byer-on-whatever-work-can-be-founder.  The career path is not for these.  How do you live?  Just live.  
Curled up by the door is a pile of rags, no, not rags; they are men, sleeping, their skin the colour of drunkenness.
They are homeless and the boss is not in tonight, so let them drink and sleep in the warm, for the bar is open until five next morning.  How to survive on the streets in this land of ice?   There are many who must live this way.  Last night the ragged man lay in a drunken stupor and watched the sky above in its constant shift of colours, green and red and blue fire, flickering above him.  'Shall I die and fall into it?'  He had thought.  He did not, and he is here.  He dozes and smiles, catching the words of those around him, opening his lids and watching the dancing, always the dancing.