Coastal Path (3) – birds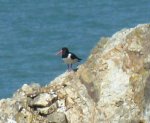 Tue, 26 May 2015
2 likes
Martins swoop, and loop the loop –
out from the cliff whizz out to scoop
unseen insects,
whirl return:
too fast to click
a fly-past pic.
Gulls upon a rock,
2 oyster-catchers standing still
(good binocular view), red beaks;
one chasing gull, then lull.
Suddenly rich piping trills
at volume high
transcend the gull's harsh cries –
three oyster-catchers
sweep by with open bills:
if we could stay all day,
and fly around,
what drama would we see,
but never fully understand.