The Empty Chair! 309 words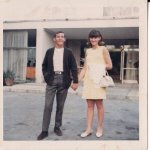 Tue, 23 Jun 2015
1 likes
Today would have been our 53rd Wedding Anniversary - The Empty Chair! 309 words
Yesterday I set the table for two,
Then realised what was missing, was you!
I looked for you, but you weren't there,
All I had to stare at was an empty chair.
I expected to see your smiling face,
But what greeted me was an awful space.
My heart and my home each an empty shell,
Why am I sentenced to live in this hell?
  
Sometimes I can laugh but mostly I cry,
I can't help it; I can't stop asking why?
Why did you leave me on my own like this?
You talking and laughing is what I miss.
I've loved you for well over fifty years,
So it's hardly surprising I shed tears.
The house seems so empty without you here,
All I wanted from life was to have you near.
It's hard to cope, but I'm doing my best,
Though it is dreadful and I cannot rest.
I wander the house each and every night,
Still thinking of you and us till first light.
We gave each other strength to carry on,
Well, I'm still here but you have gone.
To leave me first is not what we agreed,
And not only that you left with such speed.
Eating alone is the worst time for me.
This is not how it was meant to be.
I still expect to see you sitting there,
Instead, I am faced with that empty chair.
I know I must go on for our daughters' sake,
So I endure this terrible heartache.
It's just as well the future is unknown,
If only my heart would turn to cold stone.
That is the only way to ease the pain,
And stop my eyes from pouring rain.
I never expected this change of life,
I was always meant to be your wife.