Rudy, Lil Red and DJ Gran [Red Riding Hood Retelling]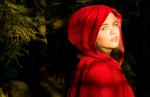 Wed, 06 Jan 2016
There's one golden rule for getting the finest meat possible in Wolferhampton: If it's under age twenty, we'll eat it plenty. But if it's getting old, it can't be sold.
If you're not from here, I suppose you're not familiar with the finest diner in town. It goes by the name of Kentucky Fried Children, better known to us locals as KFC. My brother Wulfric and his wife Lupita have been running it since I was a pup, and my Dad passed it on to Wulfy. I work there if I'm between jobs, waitressing. This week, I've been working the nine till five shift. I was so busy serving earlier that I didn't have time to ask about all the frantic calls Lupita was making at the time. It's only now I've finished that I can ask about it.  Lupita and Wulfric call me over, faces grave.
"We're in a spot of bother, Rudy," Wulfric admits "Local produce is getting harder to come by. We seem to have exhausted our supply."
"Are you sure? All the kids are gone?"
"All the hunters keep coming back empty handed. There's barely any left."
"What about young adults? Surely they can't be gone too?"
Lupita shrugs "We're a hungry bunch. It's all gone." She leans closer. "We've even been using over twenties," she whispers. I gasp and she hangs her head in shame.
"I know, Rudy, I know. We're going to have to start importing."
"Won't that be expensive?"
Wulfric nods, his face grave as he scratches his snout "Too expensive. We won't be able to keep it up for long. We need a miracle. Otherwise it looks like Kentucky Fried Children is going out of business."
We spend some time trying to think of other solutions, but come up with nothing. In the end, they send me home and I walk through the forest with a heavy heart, paws trailing. KFC can't shut down. It's been in the family for generations. Wind claws through my fur, my head cast downwards. Preoccupied, I almost miss what's stuck to the tree.
Almost.
There's a blur of crimson in the corner of my eye. I look up and see that it's crinkled piece of paper. I shuffle closer, heart thumping.  I peel back the curled corner of the paper, revealing the words 'Halloween Extravaganza. Lil Red feat DJ Gran. Wolferhampton Forest. Best Student Event of the Year!'
Students…under twenties! And if it's under age twenty, we'll eat it plenty!
There's a picture of a girl in a crimson hoodie, leant over a DJ turntable. At the top of the picture, are the three words that make this opportunity truly perfect for getting KFC back on track.
Come in costume!
***
Our plan is simple.
Step 1: Crash the party.
Step 2: Party hard.
Step 3: Catch as much prey as possible.
OK, so Wulfric says I should be concentrating on the important things (ie. Step 3), but I haven't been to a party in forever.
Of course, we all have our costumes set already. No skimpy witch costumes or zombie makeup. Just standing proud in our birthday suits. We just have to hope nobody notices what we really are.
The party is already in full flow. The DJ set is actually pretty good. DJ Gran must be at least seventy, though. I shudder to think what she'd taste like. I bet she has dentures, and they're not easy to swallow, I tell you.
I've got my heart set on Lil Red, controlling the turntable in her crimson hoodie. I claimed dibs, since this gig was my idea. And since she's the host, I reckon she'd be a good snack to keep me going for the rest of the hunt. I imagine she'd taste good southern fried with chips, but since I have a job to do, a blob of ketchup will have to do.
I'm looking at Lupita as I dance amongst the other students. She's going to give the signal - when everyone's arrived - for us to strike. There are a lot of volunteers from the town – they can't resist a good hunt, and they want to keep KFC open as much as we do. But I'm starving. I didn't eat all day in preparation. I wish they'd hurry up.
The music suddenly screeches to a halt. Lil Red lowers her hood, grinning.
"I'm taking a short break! Need a quick drink…" She holds up a hip flask and I hoot along with the other rowdy teenagers. Getting in character can't hurt…
"Back in ten!" Red declares. She jumps down from the platform, and DJ Gran takes centre stage. I catch Lupita's yellow eyes and she nods solemnly. It's time.
I smile.
I push my way out of the crowd, sneaking to the bar where I suspect Lil Red is residing. Sure enough, she's sat chatting to the barmaid as she pours her a cocktail. I'm tempted just to gobble her up, but she turns around, raising her glass in the air.
"Hi," she says "Cool costume."
I feel my skin grow warm under my fur "Oh! Thank you!"
"Come get a drink with me! You enjoying the set?"
"I sure am," I say, grinning toothily. But the party's barely started yet. I order a Bloody Mary (appropriate, I feel), but when I turn back to Lil Red, she's frowning at me.
"Man…your eyes are really yellow," she comments.
"Yeah, um…I got contacts."
"Oh. Well…you know that fur is pretty cool as well. Really shaggy. Authentic."
Excuse me? I comb my hair every day… "Yeah, well. I was going for that. Authentic."
"And are those…fleas?"
"Most certainly not!" I snarl, a glisten of spit landing on Lil Red's face. She looks disgusted as she wipes it away. There's a long silence as she smirks at me, looking me up and down.
"Dude, not to be rude, but I think you went a bit far with the costume. Your breath bloody stinks as well."
I sniff, throat tight. "You're so rude! I can't believe someone anyone would say that…" I can't wait any longer, snatching a bottle of sauce from on the bar. I squirt a blob of ketchup on Lil Red's shocked face, "I brush twice a day," I say miserably as I swallow her whole. I barely even taste her.
What a meanie.
I wash Lil Red down with my Bloody Mary and leave the barmaid a tip. She's not worth eating. She must be at least thirty-six. Practically ancient. She screams and makes a run for it, but she's not my concern anymore.
Let the hunt begin.
***
A strange quietness has settled in the forest. It's close to midnight, and the volunteers are taking the fresh meat back to KFC in vans. It's been a good night for us. But something doesn't quite feel right. There's a chill rested on my spine, like claws digging into my skin. I'm surveying the area as wolves bustle past me with the game. Normally, I'd be salivating at the thought of fresh meat. But right now, I feel like I'm being watched.
I slip away to take a walk in the woods. My eyes dart from side to side, my ears pricking up at the slightest noise. Someone's following me. Suddenly, I hear a rustle of leaves behind me. I spin around. There, glasses perched on her nose, grey curls ruffled and gnarled hands holding an axe, is DJ Gran.
"You should've taken me down while you had the chance," she snarls. And with that, she slams the axe down on my tail. I howl, stumbling away and hopping around in agony. DJ Gran's axe is stuck in the ground, the remains of my tail jammed against the blade. Through blurred eyes, I watch her let the axe go and start to run. I snarl.
Evil Granny isn't going anywhere.
I know what I have to do. And it isn't pretty.
I hobble after her, pain blinding me. It's a good job she's slow. It doesn't take me too long to catch up.
She makes the mistake of looking back, just as my mouth opens wide and snatches her up. I wince as I crunch down on her frail old bones, and then swallow her withered body.
Dentures and all.
She leaves the taste of soap and hair in my mouth. Eckk. My stomach gurgles, and I force myself to hold down my dinner. I collapse to the ground, stomach bulging, howling in pain. I can hear Wulfric calling my name, but I don't move. I'm feeling too sorry for myself. But at least I've learnt something from today.
If it's under age twenty, we'll eat it plenty. If it's getting old, it can't be sold. But no matter how mature, take them out to be sure.
Grannies bite back.