Breech of the Piss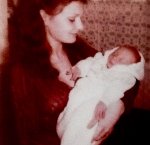 Wed, 06 Apr 2016
I had a baby today. Not yet - I was probably still in the bath with the big mirror at the side that turned me into a badly plucked chicken. No sign of labour - ten days away - at least. I was unprepared, except for the personal blade that scratched and ripped followed by an uncomfortable enema. 



I almost skipped into the room with the narrow bed in the middle. The doctor set up a drip and stuck a catheter into a vein but the tube didn't fit straight away and I felt a warm river; heard it plop on the floor - my blood, 'Oh my god, your going to die!' she joked. But her voice kind of tremored as she spoke. Hands all dabble. Then nothing. Turn up the drip. Nothing.



Then the gripping started. No drugs, I was adamant, till the surgeon walked in; turned the drip up to maximum and then a nurse walked in and said, who's turned this up - she'll go into a continual contraction... ?



So I went into a continual contraction and begged for an epidural, and Alan. After five attempts, and equal doses that had no effect, I was shut up with an elephant dose of pethidine, which rendered me speechless but did little, if nothing for the pain. Five hours later my boys butt slid into view, and he was always ever-so proud that he pissed in the doctor's face. I felt the thud of each long forcep and my baby was suddenly in Alan's arms. He looked amazed - the baby, not Alan, and they gave him to me - the baby, but I didn't want him. Scared I'd drop him off the side of the bed. too many drugs muddling my head. So they took him away. Sat me up for a wee, and sudden pain flooded my head, so they laid me down again, and that's how I stayed for 48 hours. On a drip and catheterized.



They kept bringing the boy back to me, but I still didn't want him. Had to feed him on each side. He was sweet and good, and I felt guilty, but hadn't I done enough? I'd given birth, after a fashion. Somebody else should have him. 



That was 37 years ago - five thirty tonight.