The 'It' Girl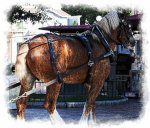 Mon, 11 Apr 2016
"Make it snappy!" she'd holler, standing 
on the porch; curlers  in her hair, rolling-pin
 in hand. Apron, flapping in the breeze;
arms folded on her more than ample chest.
"Never mind hopscotch, fetch the pail 
and shovel! Quick!  You blind, 
as well as deaf, kid?"
I'd be rich if I'd a quid each time 
she'd bring me to my knees; mid-street –
holding my breath – and my nose.
"Nothing like 'it', you know, for making 
 rhubarb grow." she'd say; 'its' posh name
was manure, 
but not  what she called it when she'd done 
with shovelling it into sacks then flogged it 
for sixpence a bag, supping her ill-gotten gains 
down the local pub.
Crikey!  Those were the days, alright,.
when real horsepower was king, and every
milkman, baker, coalman, rag-and-bone-man
had one – either a neddy or a nag.
Life's lived in the fast lane now – things
have changed, but some things stick
like shit to a garden spade, and that's
the memory of her face...
with her beaming, from ear to ear,
when she'd espy the perfect pile, rich
ripe, and steaming.