Where the Bee Sucks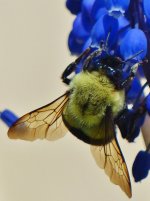 Fri, 22 Apr 2016
1 likes
You and your kind christen them 'blossom trees', 
and from that blossom, spring these,
pears, plums and peaches, ripe
with pugnacious tenacity, dusky, pink skin, 
giving to the touch.
Softness we eat, the fantastical
 'soporificness' of summer
in dew-drizzled orchard blessed
with dappled  fawn-breast light 
softness of sun and softness of shade
and lazy-daisy-days where you and I
once lived and loved.
Peaches, plums and pears and birds on the wing...
ignore, if we can, 
the fledgling by the hedge – fell from its nest
for today can't be doing with death
just the thin, brown line of the honey-bee...
needing you needing me...
a mere inkling of its less than bombastic
burgeoning, bronze hum,
and this moment that will never come again...
the fledgling – opening its eyes
flexing its newfound wings
only to fly.