Cornucopia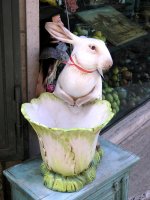 Tue, 10 May 2016
Cornucopia, Cachet, Cadeaux and Collectibles. Have you ever heard anything so pretentious? Especially above a premises selling car boot sale purchases. HE, pretends to be an expert, his boutique, he does so love anything 'Frenchified' (surprising considering the middle English antipathy to the 'Frog')  is slap bang in the middle of a quaint, cute, folksy, quintessentially  ENGLISH high street. Sitting cheek by jowl with a saddlers, a supplier to Her Majesty of waxed rainwear and a deli selling artisan sour dough bread, look alike Brie cheese and microbrewery pale ales. You may well ask, what am I doing here.
It is obvious I have class. If he had any sense he would have seen the small impressed mark on my ear but neither he or the oaf who sold it to him, noticed and decided that I was a bit of  Blackpool tat or at best tourist Majolica ware. So here I sit with a 'come and buy me' price tag, only thing is no one wants to buy me. Still when the sun shines it's not too bad. At least out here I can watch the world go by, although I do have to put up with children with sticky fingers stroking my ears and you will not believe what some people have put into my cabbage!
I can see that I have piqued your interest and you are wondering how such a wonderful work of art has found its way to this backwater, out on the streets in all weathers. My rightful place, as I am sure you realise, is in some stately home admired by people who know art when they see it.
My life began well over a hundred years ago, and I certainly do not look my age, not a single chip to my glaze. My maker, a famous potter from Italy of course, chose his clay very carefully, could see me within its depths. Many months later I emerged, to much acclaim. I graced the finest tables in Florence and Rome and was much admired. But as with all things, even you, popularity dims and what was once prized as unique becomes old fashioned and stale. I was relegated to the attic with mouldy sofas, torn oil paintings and hideous china. The inevitable came, death duties, a house clearance and I became part of a job lot of odds and ends with little value. I spent my time in many houses with little love coming my way and eventually was shipped away from my beloved Italy.
HE found me in a car boot sale, and payed peanuts. So now I sit outside Cornucopia,Cachets, Cadeaux and Collectibles waiting for someone with any degree of taste to buy me.
Oh dear, it's started to rain again, I don't suppose he'll take me in.