ELEPHANT PARK (LONDON)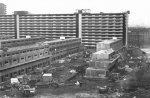 Wed, 27 Jul 2016
Hustling, bustling seventies
Modern homes for families
Childrens' playgrounds on green spaces;
Psychedelia, smiling faces
Council flats for local folk –
Looking back now, what a joke!
Come the nineties, fear and crime,
Drugs, used needles, dirt and grime.
The place ain't what it used to be
The Heygate Road Community
Is splitting up, there is no doubt
Some people can't wait to move out.
By the naughties it's all rack and ruin.
Repairs and security not worth pursuing
Graffiti splashed wildly on every wall
And the Borough Council don't care at all;
They're eager for regeneration
With no thought for the population -
London folk, who've been here years
Nobody listens to their fears;
They remember terraced homes squashed flat –
Hitler's Luftwaffe saw to that.
.
So many tenants still want to stay
Though the council bids them: 'Go Away'
But soon most of the homes are dark -
There's bold, bright plans for 'Elephant Park'!
With 'affordable' homes at impossible cost
In place of council homes now lost.
The council trumpets various schemes
To help fulfil South London dreams –
But as new towers rise up high
Hardly any locals qualify!
Everyone makes this observation-
'What they really want is gentrification!'
Bankers in, and workers out
That's what Elephant Park's about.
And now the place is nearly done.
Great ugly blocks where there were none
From Walworth to the New Kent Road;
More concrete where canals once flowed.
It may be nice when it is finished
But I fear its soul will be diminished.
Homes for the elite is The Elephant's fate
Class cleansing of the Heygate Estate.