Humour - Wasting me foddle dee doddle dee time (nonsense rhyme for Poetry Monthly)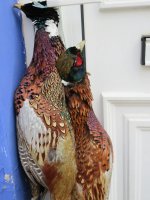 Mon, 05 Dec 2016
O me Facebook is fun – it is second to none
With me flick-a-dee, click-a-dee dido.
I post all me pictures of Saffron me puss
And me pal Jenny's doggie called Fido.
Flick-a-dee, click-a-dee till I'm half sick a dee
Frolicky dolicky rido.
(Wasting me time with me time-wasting rhyme
Quick-a-dee, Trick-a-dee lido.)
With me ole Mobile Phone I am never alone
With a ring-a-ding sing-a-ding ding dong.
I text chit and chatter and do all me patter
With me textspeak and vextspeak and sing-song
Fingery dingery pringery thingery
Tra-laa-laa, faa-laa-laa ping-pong.
(Wasting me time with me time-wasting rhyme
Bolicky rolicky bing-bong.)
Now with dear Abc I am happy and free
With me feedback and readback and writing
I'm so glad we're here I'm hopping with glee
And with none of you shall I be fighting.
But when the editors don't give me cherree
Then Elsie is not a happee bunnee!
Bitchery witchery fitchery ditchery
Spittery spotery spiting
(Wasting me time with me time-wasting rhyme
Littery lottery liting.
Miaow - the Katz has claws!) 
Now listen up! – Elsie shall give you advice
For this is a tale with a MORAL
Be good little kitties and don't ask me twice
And with you aunty puss-puss won't quarrel.
Leave your gizmos at home – get out and about
Be creative, be bold, go sing and go shout.
The MAN won't like – he can go take a hike!
Take a bus, cram a van, walk and talk, ride a bike
Be fun bright and fizzy, be daring be dizzy.
Sing and dance, leap and prance, be yourself – no-one else.
You're not a machine – you've a brain in your head
You've legs to your body, a life that's not dead
So study my words, then - have fun in your bed!
This is the Christmas message from your good friend Elsie Katz and I wish you all the very best and hope to meet with you here on Abctales again in 2017!
(BTW I'm not a pheasant plucker I'm a very pleasant amateur author!)