Freaks' Gallery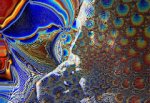 Sun, 30 Apr 2017
These are the noises I grow up with, a child of the circus: the giant scraping sound of metal against metal as the squids bring our ship into dock. The rumbling of the all clear. The fizz as the docking bay releases a cocktail of disinfectant gases – who knows what freaks' virus we might have brought with us from out there in the void? The sounds of the overseers' boots as they clang through the ship, echoing over everything, a sound that travels downwards, coating every surface, while their voices are like nettles, like tiny electric shocks. We learn to fear the crackling sound of their whips when they engage.
These are the sights: long hallways, all metal, with artifical lights reflecting through them. The bright whips, uncoiling like stretched snakes. Never the stars – though we all know they're out there, and our mothers have all told us stories about them. They tell us stories, too, about the light of a real sun, about the way it makes plants grow: green grass, green trees, bright flowers. For some of us. For others of us it's the golden moss, releasing its white spores. Or the soft mud that bakes hard and takes on half a million colours. The white grass of the Copioid Plains. Or the ice of Lancanka 12: how it blooms when the sun is at its height – all purple and bruised blue, blooming and withering and taken by the wind before sunset.
Sunset: when a real sun falls beneath the horizon. It changes the colour of the sky. Different planets, different sky; but I've been told it's nearly always beautiful.
#
We arrive at some station. It could be any station, most of the time we don't know. They round us up, herd us into the cages. Objections are for years ago – for the days when our mothers and fathers were taken.
"Keep quiet," they warn us, "don't ask for help. Nobody will help you. But you will have displeased us."
The whip; lacerating shackles; a water-logged silence; prolonged hunger. Those are the things that accompany their displeasure.
"Stay quiet. Be sure you look at the visitors."
But to me: "You can sing."
Apparently this is one of our drawcards. My people have vocal cords that differ from those of most species. And me, mine are longer and more knotted and more flexible even than most of my kind. So: they tell me I can sing. And this is my consolation. I sing the songs my mother taught me: the love songs, the guiding songs, the harvest songs, the death songs. They all have a purpose, something real in the world we left behind – that "emerald embedded in the void." They might have allowed us to call to a mate; to help bring the pods home after their journey; to sooth the dead; or to tell the crops it's come time for them to ripen.
No crops here, no pods. Love is a thing scraped together out of particles, barely held in a solid form – it darts and flips away from us, and it's always edged with pain.
The old remember. And they mourn.
There are dead. In plenty number. We are forbidden the dirges, because they fear how it sparks sentience in our dead. They can't bear to hear their voices. We have to sing those in secret, in whispers, while our dead whisper back to us, remembering, from life, how it is.
#
A different life?
How would I know?
I listen to my friend when he talks about the life he had. How he used to hunt in the Knotted Forests. How he'd sometimes go as far the river. The river would be white, clotted with creatures he refers to as the lyree. They're a kind of butterfly, wings splayed, feeding off the river, drinking, in readiness for a journey into that thing called sunset.
"Our sun," he tells me, "was a new, white star. It seemed pink around the edges. That was the atmosphere, the light bouncing off it. Our sunset was six shades of pink. It was bright, it made the whole world take on those colours."
"Ma says our sunset was yellow. Like our sun. But it took over the sky, everything gold. You covered you eyes so it wouldn't blind you."
Jorwec tells me: "We used to swim in the river."
"Swim?"
"Moving through water. It felt... cold, refreshing... it made you feel more alive than before you dived in."
"Was it silent?"
"No. Not like the tanks," his mouth takes on a vicious twist, "nothing like the tanks. And no, not silent. It bubbled... it roared a little bit. Even underneath."
He's seen the night sky. He's seen it by looking up at it. Sitting along a flat-rocked ridge with his friends. He was halfway through his childhood when he was taken. I was at the beginning of mine, too young to make memories. I have my mother's, and Jorwec's, the stories of all the other freaks. I have the images that play through my mother's songs.
#
Gallery of Freaks.
That's the way he advertises us.
He's made himself rich off us. Alondal Britterack. We don't really see him, just see vids of him, publicity nonesense that's supposed to bind us to the company, make us feel as if we're part of something great and glorious. One big team. Staff, not exhibits.
But we're exhibits.
And the overseers make sure we know it.
A girl last week refused to go up to the cages. She was sick, in pain. Maybe just tired of it all. She bit the overseer's hand. They tied her up and whipped her until her back was ribbons, they dug out one of her teeth – from the back, invisible, there are laws against our mistreatment - apparently. The dug it out with a knife, one holding her head still, the other wielding the blade. They couldn't put her back in a cage after that, so they left her, huddled, bleeding, wailing, in the cargo hold, in chains.
She went to the tank for six days after that. For Silence. So she could 'learn'.
We're exhibits.
And a stream of viewers come past us to see what strange alien life the great Mr Britterack, explorer, has been able to come back with this time. He's famous. A celebrity. While they parade us in cages - while I sing for my ongoing existence - he gives lectures, regaling these people with stories of his voyages. The planets he landed on; the wonders he saw, collected, imprisoned and turned into things.
They're a stream of odd creatures – as various as we are, covered in varying kinds of ornamentation, in multifluous fashions from all over the known galaxy. Their eyes flash briefly as they record images of us. Their children point. They chatter amongst themselves as they walk past. Some are eating. Some of them are wrapped in each other, clearly mated, bonded, in love. I know they'll go home to a bedroom, walls full of screens, an endless choice of foods and entertainments. A job. A family. In short: a life.
While we're left with the scraping of squids against the sides of our ship; the echoes of metal boots along metal hallways; the quick flash of the whip. The endless silence of a void filled with stars we might never get to see.