Summer's Entrance.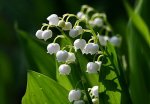 Mon, 29 May 2017
Once again her grace inherits a world of glory.
There she strolls, titillating nature's charming story,
a splendid christening, the heart-throb of Summer.
Chaffinches, Swallows, listening
to awaiting vaults of Violas...
Cradles, caresses, an abundance of shades
which melt in dusks and Lavender musks.
Laced Chantilly 'Lily of the Valley' pings,
tings tiny chimes.
Pussy-willow's fuzzy buds
shadow a scented host of mauved Thyme.
Chrome-gold Roses await penetration of the yawning Sun,
tasting it's yellow beams, finely spun.
Black collared Doves chant,
Blue-tit babes flutter, swank,
as a graceful Tulip breathes it's last...
Spring's lost child,
another elegy for Oscar Wilde.
 
Image courtesy of Wikimedia Commons. Photo 2016 Liz West, Boxborough, WA USA.