Watch your back!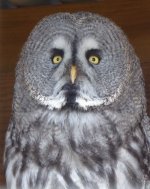 Mon, 18 Sep 2017
 (owlish metaphor)
"Tu -whit, tu-woo"
"I keep a good view,
and you, you too
what will you do?
"To look back behind me my feet needn't turn,
I soundlessly swivel my head to discern
what is to the rear, rebound in an instant,
with roundabout vigilance discrete and persistent,
observing the areas of danger with care,
perceiving the predators of which to beware.
"Your neck won't bend,
so you need a friend –
use two pairs of eyes
to know and be wise:
"Who, who will do
this task for you?
interposing, protecting,
your blunders detecting,
note those you've annoyed –
now lost in the void
of your 'visional gaps',
those 'blind spots' unnoticed
(they may set you traps
if offended) –
so who will keep watch,
inform you of problems to catch,
appease and apologise,
before unexpected attack?:
"Tu-whit, tu-woo, you too, you too
watch out behind your back!"
[Poetry Monthly: Back]