Drifting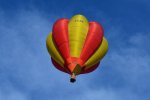 Sun, 22 Oct 2017
image by pixabay free to use.
In the Summertime me and
my brother Jake can think of
nothing better than to fly
up – up and away in our red
and green striped balloon,
as we drift gazing down
across green pasture land
over hills an amazing sight,
white horses galloping, till
we glance the ocean blue,
we had flown for miles and miles
feeling like a high flyin bird, I
said: "Mr Blue Sky you really
got me," as we landed over white
cliffs of Dover on this beautiful day.
Mungo Jerry: In The Summer Time.
Free: My Brother Jake.
The 5th Dimension: Up – Up And Away.
Jackie Lee: White Horses.
Who: Miles And Miles.
Cold Play: Adventure Of A Lifetime.
E L O: Mr Blue Sky.
Kinks: You really got me.
Jefferson Airplane: High Fly-in Bird.
U2: Beautiful Day.
Vera Lynn: The White Cliffs Of Dover.