Civic Duty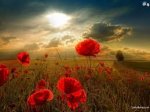 Sun, 12 Nov 2017
this is an attempt at a form, it isn't a perfect one, however I liked it, for the time being anyway.
Civic Duty.
November, we remember ones we stood beside,
In Foriegn lands the poppies grow that the public say
are an emblem, of blood, war, and that we put aside.
It's cold in the slatted sunshine, and in the winds way
the public stand, shoulder to shoulder, caught, heads are bent.
the cadets march, rows arrow sharp as we in our day.
The city is determined to have its duty spent
by the numbers here gathered to watch, for goodness sake.
we cannot say, it was to end all wars, new are sent.
We watch the cadets march away – will them - live to wake
another morning. Unlike us - conscripted, forced
from easy lives, for country and for friends. We can shake
that horrible belief that white feathers equal stuff.
The balance between life and death. Our number thins as dust....
as the flags dip down. Each year we return to a cup
so poisened that we know we cannot look down.