Cometh Spring.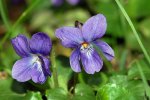 Tue, 09 Jan 2018
A Spring-tranced day,
shades of slate-grey
dapple over exhausted Tulips,
whose petals flop, terracotta tongues.
Violet Violas dribble
as Snowdrops stitch tiny lanterns
over waxen snow,
crumbling to crystal-silver
to disappear into nothingness.
Greying layers of brushwork overlap
again, and again, until completely charcoal.
A darkness looms new tapestries
as sweet scents of Jasmine soak Cedar's gold.
A shift in time,
subtle as a Siskin's sigh, wakes voice-full Wrens,
who babble like water poured from a vase.
Wide-eyed Blackbird breaks the silver silence,
orange dawn expels the ink of night,
spearing fiery rays of honeyed Sun,
sizzling infant Freesias.
Satsuma solar light lashes lime grasses,
nourishing whispering spikes.
Seedlings wriggle from swarthy soil,
Hiss, then kiss the mint air.
Image courtesy of Wikimedia Commons.
​'Viola' Frankfurt, Germany, 2006 by Fritz Geller-Grimm.