Love in Sight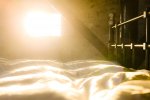 Fri, 29 Dec 2017
Love in Sight
He tucks her in at night
checks her coughing spell
in the wee hours
an extra blanket perhaps
to chase away the chill.
Married so many years
images and patterns
of children and their antics
brought meaning
to our lives—
he absorbs her scent
listens to her life.
Looks after this fine person
with a glint in her eye
captured his heart back then
leans over with a kiss
love is still on the rise.
(c) 2017 Richard L. Provencher