Gods And Men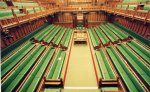 Mon, 15 Jan 2018
1 likes
"When the Gods made man,
they kept immortality to themselves."
The Epic Of Gilgamesh
"We keep it, we keep it,
it is ours, the lotus flowers'
secret is in the stamen and calyx.
We allow no mortals' fingers in the pot,
not one jot falls to their lot."
Bankers die,
Emperors too.
Yet.
They keep it, they keep it,
Do they see us through
their telescope reversed?
If not, then surely
their rich contempt is just perverse.
Worse, we really are so small
as not to matter to them at all.
"I know what I like
and I like what I know."
We are mowing lawns,
and driving cars – in caps -
for the captains and the kings
of industry and finance.
We made, we welded
we turned on lathes,
we dug,
we worked the black seam,
we farmed.
We serve,
we deserve no better,
we know no better,
we are not fit
for purpose,
to vote,
to think.
We ARE the working class.
Not you.