Thoughts Of Love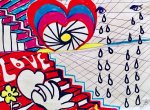 Tue, 23 Jan 2018
Thoughts Of Love
By Paul McCann
https://www.youtube.com/watch?v=l6_1hLvsdjI
.Silence fell like shadows on the water there
to a bridge on the other side
where I tried to think of a love song
that no one had ever heard before
well I just couldn't ask for more .
Thoughts of love can't be heard
and it's not because no one cared,
it's more like somethings that are shared
in the silence of the heart
thoughts of love bring us close when we're so far apart ,
thoughts of love are always there In the spirit and in the heart ….
Standing under the moonlight
and the sky was all alone
so I closed my eye and thought of her
and no one heard that night not even the stars so bright
or the things that might be out of sight but that's all right .
Looking down from a mountain top
the world seemed to come to a stop
as a rain dropped from the sky above
and the thoughts of love flooded through my head
but no one heard a word that was said except for me .