UV (Part 3) - Dillon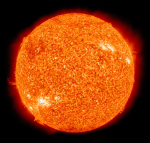 Tue, 19 Jun 2018
Thursday 5:20am.  Dillon Asimov's shift at the Vitro-Meat™ fulfilment centre was about to start.  He extinguished his E-Cig and exhaled a puff of cinnamon scented vapour.  His fluorescent overalls were radiant in the glowing light of dawn.  Ahead of him, a bright yellow line of workers snaked out of the building and looped along the footpath as they waited to be scanned.  They were bleary eyed and despondent.  No one spoke.
The LabFarm complex consisted of four identical buildings, two on either side of the road which ran straight out of the gated complex and towards the centre of the Capital.  The terrain was landscaped with synthetic turf and artificial geraniums gleamed in the flowerbeds, their solar bulbs fading as daylight grew more intense.  The buildings opposite were Head Office and the Hydroponics Unit, buildings A and B.  Dillon thought of unit C as the slaughterhouse, but he wasn't sure why, as there was no longer any need for an abattoir.  However, it seemed to him, that emissions from the building's ventilation system sometimes carried the tang of blood and sweat.  It was where the Vitro-Meat™ products were developed and security was intense.  No one he knew had ever worked there, although he had started in HyPo B the summer before last and had encountered a host of casual labour since then; a steady stream of humanity, starting employment, burning out and then being 'released' from their duties.
His time in HyPo B was a rose-tinted memory and not only due to the pink overalls and violet lighting which illuminated the rows of herbs and lettuces.  It was where he had met Madeline.
"Move along!"
The shout from a security guard up ahead startled Dillon from his reverie and he realised that he was holding up the queue.  He slipped his E-Cig into his pocket, although he knew it would be confiscated at the check-in.  The line surged forward and before he entered the unit D, Dillon looked up at the name above the doorway - Distribution Hub - beneath the holographic image of the Company Chairman. 
Posters adorned the walls of the entrance, where full body scanners were manned by both robot and human security guards in bright blue uniforms.  Most were intended to motivate the workers, with slogans such as "Your every move is watched with interest" "Earn credits, not demerits" and "Idle time is theft".  Some advertised the benefits of working for the company: "VR breaks make your days more restful" - beneath which was a smiling couple wearing black virtual reality goggles.  Dillon had his doubts about this company perk - he suspected that workers were encouraged to use VR goggles during breaks, to fool them into thinking they'd had longer rest times. As Dillon reached the scanner, a holo-glam model advertising Vitro-Meat™ morphed into Madeline.  She looked into his eyes and placed a chunk of lab grown chicken between her glossy lips.  As Madeline winked, Dillon's heart broke.  
Inside the foyer, the queue divided.  Dillon usually tried to join the line with a robot guard, but he lost his concentration and now found himself face to face with a human.  He passed through the scanner, handed over his E-Cig, then braced himself for the inevitable look of alarm, as he lifted his sleeve to reset the pedometer on his i-Life.  There was an additional device embedded in his forearm, a Penal Servitude chip, which marked Dillon out as a prisoner earning release days at the end of his sentence.  Like the other workers in the queue, every step he made that day would be counted, but unlike them, the steps he earned would be traded for time rather than Crypto credits.  His i-Life flashed to indicate the start of his twelve hour shift and Dillon broke into a jog, heading for the refrigerated depot where he would spend his day, converting steps into minutes of freedom.