Inter-tidal life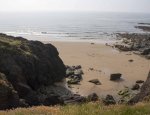 Wed, 29 Aug 2018
Sharp little barnacle prickling bare feet:
(in comes the tide)
it opens out to eat
little water creatures near to its shell –
feathery legs go in and out and search the water well.
Limp bubbly seaweed with sacks full of gas:
in comes the tide,
and lifts the jungle mass, –
clinging to the rocks, its branches waving high,
fishes swimming in and out, and crabs go walking by.
Tight clinging limpet lifts up, moves about,
eats bits of seaweed
'til the tide goes out; –
Back the limpet travels to its favourite place,
keeps some water in its shell, and grasps the rocky base.
Blob-like anemones open, unfold:
tentacles fishing,
stinging, taking hold,
pushing little creatures in to be its food,
throwing what it cannot eat out through its wavy hood.
Twice every day then the tide ebbs and flows,
changing the shore-world
as it comes and goes, –
sometimes under water, sometimes sun-baked land:
sunshine, salt and stormy billows, rocky pools and sand.
Photo: Llŷn, 2013
[Poetry monthly August: littoral]