The Empathy Files. The Angel of Empathy (3)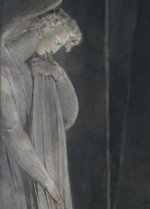 Fri, 02 Nov 2018
Reggie woke to a bright white light.  An angel appeared to be watching over him.
'Crap.  I must be dead.'
The angel looked over him with a concerned expression.  Reggie then noticed a man in a white coat standing beside her.  The man frowned in a professional sort of way and then spoke to the angel reassuringly,
'Not to worry, it's quite common for people to have speech difficulties when they have been concussed.'
Concussion?  A series of still images played across Reggie's brain.
A posh man breathing on him with minty breath.
A flurry of feathers and shimmering light.
A scrum of armed officers pinning him to the ground and then, not. 
He'd been lifted from the ground and the scrum were surrounding someone else. 
He'd felt odd, his skin tingled, his clothing felt tighter, like a security blanket. 
He'd been breathing pure air from a mask and then, when looking upwards, he could swear he saw an angel with a cool-water gaze looking down at him.
Reggie looked up at the concerned woman.  No, this wasn't her.  In fact this woman exuded an air of disappointment rather than kindness.  He couldn't imagine why she might be at all interested in him.  He tried masking the woman's face with a sliding selection from his memory bank until one pleased him.  A laughing girl with dreads and a golden tooth.  She was looking into his eyes and really saw him.  Sweet Simone.
Wrapped in clean sheets and pleasant thoughts, Reggie drifted back into a luxurious sleep.
RP woke to a dull yellow light.  He was lying on a cold floor and there was a distinctly revolting odour enveloping him. He had expected a much more exalted welcome to death than this.  Everything of his body hurt.  Beyond the ache of bruising, his bare feet were swollen, toenails seemed to be digging into his skin and his skin itched intolerably, as did his head.  His ears were filled with a constant high pitched buzz.  Even his teeth hurt.  He ran a thick tongue over them and was shocked to find so many gaps.  Of course he wasn't dead, death would not be this uncomfortable, unless of course he was in the other place, but that was impossible.  RP shivered, surely hell wouldn't be this cold either. 
There was a loud clanging at a door and RP realised he was in a very small room.  A voice bellowed at him with no regard for his pounding head,
'Here you go Reggie.  Nice cuppa and something to eat.'
RP watched as a slot in the door opened. A mug, and what may have been a sandwich, appeared and was left on a small shelf on the inside of the door. 
Reggie? Not even his wife called him that - not even his nanny had ever called him that!  RP was incensed.  How dare he, whoever he was, speak to him so disrespectfully, what an incompetent way to offer hospitality.  Although, come to think of it, RP was thirsty and hungry.  He lumbered to his feet and moved with uncharacteristic stiffness to the door.  He gulped scalding liquid from the mug, finding its cloying sweetness strangely satisfying, and nibbled at what appeared to be a polystyrene and rubber sandwich.
RP felt overwhelming exhausted.  He could not comprehend the situation and he felt absolutely ghastly.  He cast his eyes around the room and noted a human length shelf. He edged himself toward it, lowered his body to a sitting, then lying down position.  That felt a little better.
RP looked up at the grey ceiling with its yellowish light bulb and tried to remember.
He'd fallen.  He'd fallen onto, into, a most awful man.  He had melted into a greenish light.  Feathers and strong wings had held him, quite delightfully, and then there had been men.  Shouting, handling him.  One had fired a taser at him, excruciating pain, and now, this.
RP hadn't any more strength to think.  He needed to sleep.  As he slipped into the relative respite of unconsciousness he thought he could hear a pigeon cooing.
Reggie woke again to find himself in the most beautiful room he had ever been in.  The ceiling was iced like a wedding cake. It dripped in crystal droplets which scattered light.  Dazzling little spotlights fell onto pools of colour.  A painting here, a fabric there. And in the midst of all of this grandeur, was Reggie, lying in state on this high altar of a bed. There was silk next to his skin, he lay on a mattress of air, his head was supported by pillows of cloud and a picture window to his left showed him stately gardens, a river beyond and beyond that?  Green, blue, heaven.  Heaven?
Reggie turned his head to see the beautiful woman who had been at his side the last time he was conscious, and another person, who he deduced from the stethoscope and bag, was a doctor. 
'Now then RP,' said the doctor, 'You'll be fine here at home under the watchful eye of your wife.'
Reggie was stunned.
'But this is not my beautiful house!  This is not my beautiful wife!'
'Ah, yes, very good,' soothed the doctor, 'Talking Heads.  I liked them when I was younger too.'
The woman looked concerned. 'That's really not RP's sort of music.'
'Don't worry,' the liquid voice of the doctor calmed the woman, 'this kind of thing is quite normal.  Snatches of memory will spill out until the jigsaw of the past joins up and he will be quite himself again.  Let him rest and reflect.  Do call me if you are concerned and I'll drop in this evening.'
'Good day, RP,' the doctor called out in a jolly fashion, 'make the most of a little bed-rest, something of a novelty for you no doubt.'
A novelty for sure thought Reggie as the two strangers left the room.  It was what he had often dreamt of, but now it was happening he was not so certain he liked it.
The woman returned a few minutes later accompanied by another woman, she was small, neat and carried a tray of silver and china.  She wore a forced expression of disinterest.
'Now then, RP,  a nice cup of tea and a little toast perhaps?  Your favourite marmalade?  A soft boiled egg?  Well, you manage what you can.  Now, you mustn't work, so no laptop for you, but a little television may keep you abreast of world events.'
She plumped up his pillows and helped him into a sitting position.  With the click of some device, a television screen rose from the foot of the bed and a newsreader's head appeared.   The woman placed the device into his hand.
'Now, only half an hour and then a nice rest for you my dear.'
Reggie was transfixed by the screen. 
'But that's me!'
'Of course it is darling.'
There on the screen was Reggie handcuffed to a railing and sprawled on the pavement.  A suited man, he looked very familiar, was being escorted away by a medical team as a pile of police officers seemed to be laying into him.  He was surprised he wasn't feeling more bruised than he did.
'Did it happen?' he asked.  'The great adventure, the flash mob of political positivity?'
The woman smiled at him and stroked his brow.
'There, there, RP, enough television for you.  Time for a rest.'
Reggie looked through the window and out across the gardens to the great beyond.  The world looked very different from this bed.