Ross on Wye and Chase Wood 15/11/18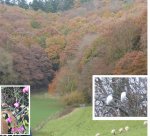 Fri, 23 Nov 2018
Full Wye flows around the town
– town sitting on its cliff;
with wooded slopes behind.
Walk along the Wye out west of town,
then turn towards the hill
(half-bare bushes
with bright pattern
of yellow remaining leaves
– catch the light,
and surprise of pink spindle fruit);
then up the steep hill
(– dark mix of leafless brown,
and autumn tinted patches,
evergreen on the skyline),
crunching patterned
leaf-fall paths,
up and down.
Full Wye flows on
– four white Little Egrets, visitors,
roost high up in a tree by the river.