Among friends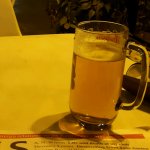 Fri, 15 Feb 2019
I feel more Spanish when I'm out.  It's a strange old business.  Three and a half years.  Brexit one year in.  Ties in UK.  Ties here.  Responsibilities.  My mam.  First and foremost.  N – who knows where she might go next?
I've been feeling rough today.  Past few days or weeks even.  It's the cold and flu season.  Fighting it.  Carrying the bug.  Carrying the weight of the world.  Brexit.  Cataluña.  The failure of democratic government.  How global finance has done that to us.  Stress.  Anxiety.  A strange feeling in my chest.  Exhaustion.  Vertigo.  The feeling that flat floors are no longer flat.  The listing deck of a ship.  The need to sleep.
Tonight I feel I've been among friends.  Camareros.  I've known them a while now.  Foreigners like me.  Bangladeshi.  Peruvian.  Good folks.  Working hard.  It was good to see them, and I knew they were happy to see me. Hugs. When are you coming again?  When the time's right.  I answered.  When it's time to hit the sidra and tuck into a solomillo de cerdo, and just enjoy being here again.  Thanks for the chupito – hierbas – a drink I first tried on the penultimate night of the Camino.  Just as welcome in this tourist trap offered as a parting shot (Ha!) among friends.
Among friends on WhatsApp.  Student group in a French multinational.  Known some of them three  years.  More than students.  More than teacher.  Would that happen in England? I don't know.  It happens here.
Pablo.  Mate.  Leganés fan and benefactor of my La Liga experiences.  "What you talking about?"  No idea Pablo.  Maybe it's my Spanish, or maybe it's the time of beer.
I feel most English during the week (la jornada laboral).  That old Protestant work ethic thing.  Learned.  I wasn't always that way, but now I am.  The excluded Catholic takes on the characteristics of his Protestant mentors.  Well, so be it.  He plays it well.  To a point.  But it kills him.  
Tonight, I feel different.  Standing in the bar drinking cañas, busy camareras pushing around me.  Trying to vanquish the oh so English idea that I might be in their way – they don't mind, smiling and flirting.  
Waiting for the 53 bus back home.  (I nearly bought a guitar in that shop, there.)  Grumbling with the older couples in the queue.  Almost fitting in but always a guiri on first sight.  Knowing that.  Being what I am: something in between.  Yes, that's where to be.
The language comes more easily with a few beers.