The Instrumentalist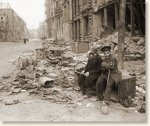 Fri, 29 Mar 2019
I listen to the fading music. The concert is over, but notes are trapped in the branches of trees and under the eaves of nearby sandstone houses built for the rich and housing the poor. Bankers, lawyers and doctors have lived in these houses. In those days when people did not open their own front doors. It was a good performance, worthy of great remuneration. The instrumentalist has a priceless talent, and he puts no price upon it.
He has played in Hamburg, Munich and Berlin. Early in the war he played in Paris. I first heard his music there, near the Place Pigalle. From time to time I was lucky enough to visit Germany and hear his work again. Now the bombs have stopped falling, he has returned to Berlin. His music flows over the stones and rubble and I walk miles to hear it. From Unter den Linden to Kaiser Friedrich Strasse, Stuttgarter Platz or the Kurfurstenstrasse. The instrumentalist plays a new instrument at every performance and the wild music is never the same twice.
I am a Doctor. Or I was. Now I am... A music lover. I studied at the school of medicine in Heidelberg. A middling degree was no bar to employment in a small hospital in Frankfurt-an-der-Oder, not in 1936. Besides, I have never been shy of trading on my name, although my true forbears are Schwabian pig farmers - not any kind of Swiss Theologian and Physician. My party number was quite low, I have no Persilschein, nor will I need one, now.
In Paris, I arrived on a military transport train. The black uniform was still new and the silver letters gleamed in the sun. The Parisians stepped aside for Herr Doktor Untersturmführer Erastus. Such things are seductive and hard to relinquish, I have found. There were other trains to look at, to fill. They travelled East. They were filled efficiently and their passengers found comfort in their God, if not in their Sonderwagen. Brunner outranked me by two ranks only. A little man in his little fiefdom of Drancy.
The music was first played on Rue Clichy. I was transported by it. My admiration for the instrumentalist knew no bounds. His hand movements were precise as a surgeon at times. In the last movement, always forte, the hands were swift and savage. That first performance, although raw, has remained forever in my memory. The reviews in the papers were subdued; of course one did not expect art to reach the front pages, but a squib at the bottom left of Paris-Soir? An insult, nothing less. There were two more performances before I left Paris. A review was heard on the radio, at least. There was no possibility of an appearance by the instrumentalist whilst I was working at Birkenau. He returned to Germany, as I did, with the end of the war, when the Ivans arrived.
At first I headed south, to Munich. One week's recovery in a Bavarian barn was necessary, after my burns had become infected. The blood group was no longer visible on my arm, so I counted it time well spent. I confess I hoped that the instrumentalist would not give up performing and that he would return to the larger cities of the Reich in spite of the Amis and their British lapdogs. It would be a matter of waiting, surely he would come to Munich?
But he did not. I broke the curfew, rode the rails and in the back of farmer's carts until I reached Hamburg. Where I waited. Imagine my disappointment when a performance was cancelled. An accident, the instrument slipped from his fingers and he could not make his music.
And so I returned to Berlin and in the ruins of the city I heard the music again. The sirens are the coda to his playing and I hear them before my hands stop clapping. One day he will no longer be able to play and my life will not be worth living. But in the meantime, play on, Maestro! Play on!