Love in the Days of Dial-up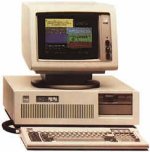 Fri, 12 Apr 2019
2 likes
We met on a VMS mainframe
Over dialup, in bits per second - 1200
We ran our romance like a role-playing game
And wrote batch commands to flirt.
The first time we broke up was text chat on Unix
And that's how I learned you were cheating with me.
Shamed, I switched BBS systems
Fled campus and deleted my scripts.
But you tracked me down in the analog world.
I had a pretty boy with a ponytail then, but I gave him up for you
And you told me you would be faithful
(Though that was not entirely true.)
We shared an apartment, four computers, one armchair
And perhaps each one third of a heart
Our server sat in the closet
It ran us on pirated software.
And you traveled and left me stewing, bereft
To places like Paris, Las Vegas, Winnipeg
Once you proudly brought me home a new modem
And when we broke up the next time I left.
You traced me through Usenet, on IRC, knew how long
It took me to walk home from work and log in.
(Where else was I to go?
We still had that cable connection.)
In time, I did not show up. You were frantic
Imagining chat rooms where I might hold court.
I had found a new... server, you see
And I did my own tech support.
And it happened that we met again, once or twice
And tried sunsets together and dinner with wine
But the physical world could not rekindle
A love that was most real online.