An unsought win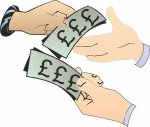 Tue, 14 May 2019
I know it may seem
a little extreme,
but I'd told my daughter
I really would rather
not enter a raffle
with all the kerfuffle
of feelings of greed
instead of the need
of the charity in question
for a simple donation.
But when working a while
in a school for kids special
she said she'd a pile
of tickets to raffle:
I gave her some money
instead,
but
in the following press
of the working day's stress,
(did she think it was funny?)
unsure where to put it –
into the 'bucket'
went the cash, and a stub
or a few, in the 'tub':
so all was paid in
and – well, Mum would never win …
The fete-day came
and the raffle draw:
they heard a name –
'1st prize is for …'
her Mum, had won!
Embarrassed and giggling,
my daughter, two friends,
sat, waiting, wriggling
– 'This is for you!'
They gave it to me
and watched what I'd do.
The school's needs were many
they valued every penny,
I felt I should return
what I did not earn,
I'd not sought for the prize
and it was useful and wise
to show those three
it was good to be free
to laugh together,
and our 'prize' was that laughter!
The prize was cash in the form of a quite large cheque.
I wrote about this incident some time ago, but thought to have another go for this week's IP. Rh
[IP: unexpected win]