The Cinderella Team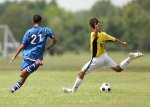 Sun, 12 May 2019
I don't know who started the ball rolling.
It may have been Derek, our head of training, who - well regarded in the company's higher echelon – was always on the lookout for potential managers to be sent on leadership courses.
Perhaps he thought that one may be spotted through a sporting event. Anyway, a 5-a-side inter-departmental football competition was announced.
All sections were represented and all eager of showing their sporting prowess. Management, Marketing, Production & Planning, R&D, Engineering, Personnel and Accounts jumped on the band wagon. I belonged to a 'Cinderella team' : Accounts.
We were the least fancied team because, apart from age (I myself was in my middle forties) and physical condition, we just managed the number of five players plus a substitute but only if, in addition to Robert, Chris, Dan, Rupert and I, we included young Jennifer, a female wages clerk.
When the draw was made we feared the worst; our first opponent were the Engineers with Dai and Rhys, amateur rugby players, in their contingent.
Luck was on hour side as one of those two burly contestants flattened Robert in the penalty area and he, though still wobbly from the blow he had suffered, took the kick and managed to send the goalkeeper in the wrong direction and scored what proved to be the winning goal.
Beating Management was a doddle, three – nil, and even I managed to sneak one goal.
I could see that they were miffed and wondered if I had put any prospect of promotion in jeopardy.
The rest of the competition was no much cop and we had an easy passage to the next stages.
It was more luck than judgment that we managed to reach the final.
In the semi Rupert had to withdraw with cramp and we were forced to introduce Jennifer as a substitute. She assured us that we had nothing to worry as she played or trained with the Tottenham Ladies. But we took that with a pinch of salt.
We needn't have worried; an own goal by the Marketing goalkeeper was enough to ensure a final confrontation of titanic proportion with Production & Planning.
Bill, the managing director who had played in the Management team and lost, made a surprising request: he asked if we could make room for him to be included in our team for the final.
Everyone wanted to be in the boss's good books and were inclined to agree but Jennifer protested that there was no way she would give up her place.
I on the other hand was feeling fatigued and needing a cigarette. I told him he could play instead of me.
Bill was useless but Jennifer was as good as her word and proved it by netting the ball that assured us of an unexpected win.
There was not much money in the petty cash but we managed to buy and inscribe sets of winner medals for all the participants, including Bill. And that had been truly unforeseen.
I have still got mine. It is attached to my key ring.
The image of a footballer on its obverse may give a clear hint of what it was awarded for but the inscription on the reverse has faded so much that it has become illegible.
Yet I can quote it from memory: "Winners. 5-a-side inter-departmental competition 1979".
© Luigi Pagano 2019