The Secret Of Survival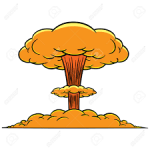 Sun, 16 Jun 2019
The Secret of Survival
Fifty years wondering shhh!
Chattering newsreels
Talk endless words of nothing,
But when in desperate fear
We plead to know
The hotwires cool and are
Strangely silent shhhh!
Now, out of Pandora's Box
Safe in half-life, quite benign
Half a century of whispers
Now shouted round the globe
We were seconds from annihilation
"Thanks for telling me,
Or did you plan to keep a secret?"
Treason was in the telling
National security was challenged
Panic if we told them
Better they die in peace not knowing
The awful secret we must keep.
For a nation's safety we readied to run deep
Bunkered down beneath the bomb
Ready to govern what was left.
Don't think I was on the list;
Yet not one politician would be missed.
Four minutes! Time enough!
"I'll boil an egg…no need
Three more minutes I'll have it fried…"