Strange Happenings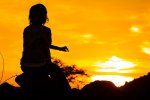 Thu, 22 Aug 2019
My name's Anna, I'm twenty two with cropped hair that looks quite boyish, but cut short makes it easier to keep clean and tidy, especially in my line of work as a Marine biologist and environmentalist, all that deep sea diving making sure we work together with nature to sustain the great ocean creatures that are my passion. I also have a great sense of adventure and taste for the outdoors.
My mama always taught me to be independent and not rely on others, so I suppose that's why I find it hard to let people in. I need solitude, to walk unaccompanied through the night, just listening to the sounds of nature and feeling unafraid.
The fact I was due some time off work, left me with just one thing on my mind...to escape into the wilderness. This day I had gathered up my tent and belongings into my backpack and headed off to Barley Hill, this was a place where you could see for miles, looking out over valleys, lakes and a lot of sky and feel the energy all around.
I was in a state of bliss my cheeks flushed with such excitement, not really knowing why? Perhaps it was the beautiful scenery that I'd spent the day gazing at, or the idea of what the night might bring. But feeling my stomach rumble with anticipation. Perhaps! I thought I might be in need of food, so I opened my backpack and took out an energy bar, all those lovely fruits and nuts was exactly what I needed to limit my hunger. Peeling off the wrapper, my mouth watered as I took a bite, the sweetness immediately playing with my taste buds as I savoured every chew with an expression of ecstasy... It's surprising how food can affect you when you're that hungry.
It was a fine evening, the sun was just peering over distant hill tops, there was a blush of ambiance all around, while ghostly clouds patterned the sky. Looking down into the valley below, I decided to set up camp close to the lake and trees that would make a great shelter from any wind and rain that might arrive.
Picking up my belongings and swinging my backpack over my shoulder, I made my way down the hill path that was regularly used by walkers. I wore strong hiking boots which were great for moving fast and a thick pair of socks, so carefully I began to pick up pace being careful not to slip or trip on any rocks that might be poking out of the ground. My jeans were strong and not easily scagged, now I realize why all those cowboys wore them! I thought with a smile. My green waxed coat with a hood was great at keeping off wind and rain.
I was nearly at the bottom as the sun now disappeared from view. Knowing I needed to get my tent up pretty quickly had me convinced that the first ideal spot I came to would be where I would make camp. Luckily I found a patch of grass quite close to the lake edge which was perfect, so heaving my backpack off, I undid the bag that held my tent and proceeded to pitch my home for the night. There wasn't any problem making a fire as there was so much dead wood around...thankfully. Once lit I made sure there was enough wood to last the evening.
Taking out a pan and some oil, I proceeded to cook bacon and eggs, such a wonderful aroma hit my taste buds. The bacon sizzled and spat while the eggs cooked and the fire crackled, smoke filled the air rising like a snake from out of the flames, which I found hypnotizing as I continued to eat with gusto.
Darkness came and left me feeling sleepy as stars began to twinkle in the night sky. It was a night for star gazing and even the grass only had a hint of dampness, so I decided to get my sleeping back from the tent and lay it on the grass. Climbing in I zipped up and lay gazing up at the many planets that were so clear out here in the middle of nowhere, wondering whether life actually did exist out there.
***
I don't remember falling asleep, but opening my eyes I sat up quickly worried in case any animals had got into my backpack or tent. Picking up my torch I turned it on and shone around the area, It was all very quiet apart from lunar glimmering between trembling leaves of tall trees which cast reflections as shafts of light swept along the exposed lake, but then I thought to myself! There's no breeze out here, why would the leaves be quivering and ripples on the lake be affected? It was far too unnatural.
Turning to gaze up near the trees again, I suddenly realized the ball of light couldn't be lunar as it began to float away, sending out sweeping puffs of air but not making any noise. I was in awe of what I was glimpsing as it began to loose its roundness and changed shape.
It was suspended likened to a jelly fish, a globular radiating an incantation of rainbow colours, a pulsing energy that changed constantly, I say jelly fish, because many tentacles downwards plunged, swaying in slow motion against darkness of night.
So quiet were my steps that I began to feel elevated in the solitude as if I were treading air, carefully following the orb's path. It was now above me, I could see the underside, even that reminded me of the jellyfish but I wasn't at all afraid. There was an entrance which appeared to me like a mouth opening and closing in a yawn as it sucked air from the atmosphere and appeared to be breathing.
Just as I thought things couldn't get any weirder, this other-worldly figure began to emerge slowly, as if like a snake sliding down one of the tentacles in slow motion. That was when my confidence was diminished.
Spindly arms and legs that looked like nematode worms, were attached to what appeared to me as a Seraph angel with fine scaly fins instead of wings, crossed with nematocyst...a jellyfish, but it also had the facial features of a fish, the fishes body being a head making it look elongated. There were long flowing white threads attached to the body that rippled steadily.
As it moved ever closer I could see the skin was like that of a ghost but solid, smooth an aura shimmering. I stooped at the magnitude of vastness which was overwhelming, magnificent but alarming and alluring at the same time.
Looking up for so long, vertigo overcame me, I fell to my knees and closed my eyes placing my head down between my legs, willing whatever was up there to go away and kept repeating over and over; "please leave me alone...please leave me alone." But then I could feel the threads fluttering around me.
I heard a whoosh! Looking up the tentacles shot out fine pieces of webbing which engulfed me, wrapping around my body till I was cocooned like a chrysalis, it all happened so fast, whatever hope I had of escaping was too late, my fate was sealed.
With trembling body I was airlifted and felt myself being swallowed up by the night sky. Trying to struggle was a difficulty as I wriggled to free my arms without any luck. I tried screaming for help, but no sound escaped my open mouth, it was so distressing.
Determination to break free gave me reason to keep wrestling with the tough fibre that was starting to leave me claustrophobic. Pushing with my legs, I managed to turn on my side as I took deep breaths. It was so dark and I was sweating getting hotter and hotter. The air felt weak and there was light suddenly shining in my eyes, as I felt someone shaking me. That's when a voice called out, "Hey! You okay in there?"
Suddenly I was able to open my eyes as a rough tongue began licking my cheek and had me suddenly aware I'd been dreaming. I was trapped in my sleeping bag unable to find the zip.
"Get off her." A man said, standing over me and pushed a dog away then turned with concerned eyes. "That must have been some dream you were having, I've never seen someone struggling as much."
Wiping the perspiration from my forehead, the man began to unzip my sleeping bag. "Name's Andy and this is my companion Sammy." The dog began barking as if excited. "So what you doing out here all alone? Not the kind of place for a young girl all by herself."
Still slightly terrified with my nightmare, climbing out of my bedding I began to explain. "My name's Anna, I always travel alone, it's the best, but I don't normally fall asleep outside the tent, it was just the night's so perfect and the stars looking so captivating gave me a reason."
I picked up my torch and shone it around, everything looked to be in order as I'd left it. "What's the time?" I inquired, having no idea exactly when I fell asleep.
Andy took out his mobile. "It's nearly 11.30. You were lucky I came along when I did don't normally go out this late, but Sammy here kept howling as if he was desperate to be somewhere, so I thought I'd give him some exercise. That's when he led me to you, it was as if he knew you were here and in some kind of trouble." I could see that this man was as confused as myself.
I turned to Sammy and he gave me a welcome bark. How odd! I thought to myself. "Well! Thank you Sammy for saving me from a very weird dream." Picking the dog up, Sammy began licking my cheek again as if to say. "Well, that's okay, just glad to be of service."
Andy and his dog left soon after and I returned to my tent with my sleeping bag and torch, this time to get a good night's sleep, thankful that my experience had just been a very weird dream.
Picture by pixabay free.