An Open Letter to Perpetual Sadness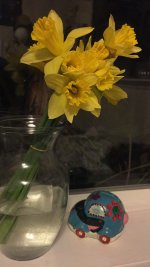 Tue, 27 Aug 2019
Dear Cancerous Backseat Driver,
You are NOT steering my automobile. You don't even know, you don't even care where we're going so you can't advise me to go one direction or another. You spit on the back of my neck everytime I put the clutch in, you fuck with the windows and you scream in my ear whenever we go round a corner. 
It's not funny when you try to climb into the front seat when I maneuver cliffsides next to beach towns. If I want to visit the beach, I will lock you in the bloody car to get a wee bit of peace--and I still hear you yelling and kicking from the back seat. I wish I could drop you off in the desert or tape your mouth shut in the trunk of this car. My only silent escape from you comes when I blast the radio to drown out your vile, venemous vitriol.
Maybe if I could take a break from driving for a bit...maybe if you silently die one day...maybe if I ever learn to love you...maybe I shouldn't have given up the chemo...But maybe the chemo was just helping me to ignore you whilst still feeling the misery you put upon me. 
Perhaps I'll learn to live with you and silently smile when you try to disturb me. I'll listen to you the way one listens to a madman or a tantrumous child. In any case, I know you're a permanent passenger and I can't give you the time of day when you ceaselessly pester me, "are we there yet?"
My cancerous backseat driver, I will never love you. But I will also never hate you. You occupy a sizeable portion in my automobile but you'll never drive this car. And you'll never drive me mad.
With love, 
M.
xx