"The Trouble with Magical Beings" Chapter 9 (A Fantasy)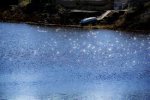 Sun, 13 Oct 2019
 Where moments before the sky had been bright with afternoon sunlight, it was instantly changing to nightfall, and the jungle had turned ominously dark.
"I don't like this," Daniel said.
"I want to go home," Jenny sniffled.
 "Don't be afraid," Naia said calmly, "as long as we stay together we're safe."
 "Look, I see a clearing through those trees," Daniel pointed to a slight sliver of light.
They moved slowly towards it and when they stepped out from the dense trees, they found themselves in a circular clearing. A full moon came out from behind the dark clouds and shone eerily down on the open grassland.
"It took you long enough," the stallion said, standing near a cool stream that was meandered through the jungle's floor.
The ponies immediately flew over to the edge of that stream and began drinking the cool water.
"I'm glad we found you," Daniel told him as he, Jenny and Naia walked over to the stream too.
"Found me? I wasn't lost," the Stallion harrumphed before turning back to the cool water.
"Are these for us?" Jenny asked spying three brightly polished, silver cups lying in the grass next to the stream.
"I think so," Naia smiled picking up one of the cups.
Daniel and Jenny picked up the other two and they all filled them with water from the stream.
The water was crisp, cool and refreshing to the thirsty group, it was the best tasting water any of them had ever had and that was as it should be when water is magically provided.
"Which way should we go now?" Daniel wondered out loud as they sat by the stream.
Boots looked around and nodded to a part of the jungle that appeared to have a path cut into it. "That way looks promising," he told them.
They agreed it did look to be the best way out.
The little group, having satisfied their thirst, started walking again hoping to find their way out of this jungle maze.
They had found several dead ends in the thick bushes and had to turn back and start again. They'd just found another path that led deeper into an open forest of trees.
It was quiet as they walked through the trees, almost too quiet and the trees were getting taller and taller as they walked further along.
These trees were ancient sentinels of the land and Naia watched them cautiously as she knew they watched her.
They were magnificent trees in height and width and they towered over the children and animals that were walking through their forest. Their branches swayed, dipping down without help of wind, pointing out and following their movement since they'd entered their sacred grounds.
"The trees are so big here, bigger than any tree I've ever seen," Jenny craned her neck to look all the way up at them.
Daniel's eyes widened at the dizzying heights of the towering trees but seeing these amazingly tall trees brought him a happy memory and he smiled.
"Dad once told me about gigantic redwood trees he'd seen in California." Daniel told his sister as they walked.
"Do you think they were as big as these trees?" Jenny asked him with childhood wonder in her eyes.
"I don't know but he said they were special and they had lived thousands of years and they needed to be protected. He was going to takes us to see them when you were old enough to remember them, but that was before…," Daniel stopped there as the sadness overwhelmed him. He turned quickly away; he didn't want anyone to see the tears he was blinking back. Then he coughed to cover a sob and said, "Anyway, we need to keep walking if we're going to find the way out of here."
"But it's getting so dark, I can hardly see in front of us, can't we stop here until its light again?" Jenny asked him.
It was true; the moonlight was mostly hidden now by the cover of the tall trees but Daniel didn't want to stop.   
"We really should keep going," Daniel told her.
"I can lead us through the dark night. I have excellent night vision," Boots told him.
"You're not the only animal here with good night vision, may I remind you. I happen to have excellent vision in the dark too," said the stallion huffily.
The lion conceded, "My apologies stallion, if you'd like to lead, then we'll follow you."
The stallion puffed up his chest and said, "I'd like that very much."  He walked ahead of the group and as he walked he suddenly grew larger, he grew to his normal stallion size and so did the lion, he grew to his normal lion size.
"What happened?" Daniel asked looking at Naia. "Did you wish them to grow again?"
"No, this wasn't my magic," Naia said looking up at the tallest tree and seeing the kindness it was projecting their way, "I think it was your memory of your dad that made you a friend here."
"What?" Daniel looked around, "What friend?"
Naia nodded to the trees above them. "They heard your kindness and your sincerity so they gave our animals back their dignified size and for us, they've just granted a pass."
The branches on the tallest tree bowed slightly at her words.
"Thank you," Daniel said to the tree, "and I promise when I grow up I'm going to find that place where the redwoods grow and I'll thank them too."
The trees swayed and parted at their tops to let the moonlight in, it shone down and illuminated the path for the travelers to see.
They were nearly out of the forest when Daniel turned back and waved and the tallest tree waved back at him.
They continued on the moonlit path following the Stallion until it led them back into the thick vines and bushes of the jungle's maze and they again had to find another path cut into this thick foliage.
Jenny sat on her fully grown lion's back and Naia on her green pony and Daniel on the little yellow pony that had been Jenny's at the start of the adventure. The stallion was very happy to be rider-less as he led them through the moonlit, tree filled forest but now he'd stopped, he didn't know which way to go.
"What's that?" Daniel asked as he spied two yellow lights coming from within the overgrown bushes ahead of them.
I'm not sure," Naia whispered, "but we'd better go slowly until we know what it is."
Jenny closed her eyes, "I don't want to know," she whimpered.
"Stay close," Daniel warned as he trotted his pony to the front of the group and began to slowly walk towards those two yellow lights. When he was nearly in front of the strange lights a familiar voice called out from the darkness.
"There you all are! I'm so glad I found you."
Shale cried out as he ran out from the bushes, his yellow eyes flashing happily.
"Shale? What are you doing here?" Daniel was surprised to see the little robot.
"I heard my dad tell my mom he'd found intruders who'd tried to kidnap me and he'd taken them to the jungle maze. I knew he was talking about all of you and I had to find you. It's my turn to help you find your way home."
"Do you know the way out of here?" Daniel asked hopefully.
Shale shook his head, "Oh no, I've never been in here, it's forbidden."
"So, you're lost too," Daniel informed him kindly.
Shale thought about it and nodded, "I guess I am."
The stallion turned to the little robot and sighed with annoyance, "Then you may as well hop on my back because we need to get moving."
"I can ride the big horse?" Shale's eyes beamed delightedly at the thought.
Daniel smiled, "I guess you're in the lead now too."
"Wow, this is so much fun, I'm glad I'm lost with all of you again," Shale said giving them all a big metal grin as he climbed up on the stallion's back.
"Yes, we're all back together," Jenny smiled at him, thinking this was the best adventure because everyone had become friends.