Repentance and Redemption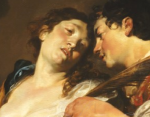 Fri, 21 Feb 2020
2 likes
It had been a long night full of regrets and self-recriminations. I endeavoured to assuage her grief with soothing and encouraging words. I told her that sometimes we are victims of circumstance and suffer ill consequences because of factors that are out of our control.
By the morning we were both emotionally drained.
Talking about her traumatic experiences had a cathartic effect on Lottie.
By releasing her pent-up feeling she relaxed and regained her composure.
"That experience made me stronger.", she said with conviction, "I resolved that I would not be a submissive woman to be toyed with at will. I would be the one making decisions affecting my life, including whom to choose as a lover."
They were not as many as I might think, she admitted candidly. She had exaggerated the numbers to make me jealous and making herself more attractive. Having detected more than a passing interest in my letters, where I expressed regret for having let a golden chance slip by, she found new hope of us getting together and had not strayed anymore.
"I have lived a chaste life ever since", she assured me, "and now that I am confident of your love I promise to be faithful for evermore."
Adding that giving this pledge was rather a bold decision and not a particularly easy one for a woman lost almost beyond redemption.
"Now that I have you...", she started saying.
"No," I interrupted, "now that we have each other.
"....I feel safer.", she concluded.
"The past is a preface to the future for which we must carefully plan." I philosophised.
"I seem to remember that Shakespeare said something similar. Was that man never lost for words?"
Her sense of humour seemed to have returned and I was thankful for that.
◊ ◊ ◊
Last night's events are still fresh in our memory but Lottie does not show any sign of discomfort over breakfast; she chats amiably with Jessica who is, as always, on a fishing expedition.
"Will you be away for long, Aunt Lottie?", she asks.
I am startled by the fact that she's using that affectionate term and wonder if she'll be as quick in calling her 'Mum'.
Lottie tells her that she won't be absent for longer than necessary and that she must be ready for the limousine she's booked to go to Zurich at midday.
Jessica is disappointed that she can't ferret out any indiscretions but puts on a brave face.
I can see from her look that once Lottie is gone I will be in line for a thorough grilling, wanting to know what she describes as the juicy details, which I will obviously omit from anything I shall relate.
I start preparing a statement in my mind, a sanitised version.
It's not that I wish to spare Jessica's blushes – she's a mature young woman who knows the facts of life – but I don't want to embarrass her future stepmother.
 
© Luigi Pagano 2020
Previous episode: https://www.abctales.com/story/luigipagano/re-visiting-past