Greek music fires the heart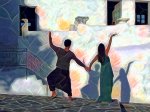 Sun, 01 Mar 2020
1 likes
A dance with shadows
twists and turns, rises and falls 
and is always acting in unison.
It moves in ancient rhythms
firing the heart and opens 
and closes like flowers.
.
All parts are rehearsed in a double act,
but hush, do not try to separate flesh and spirit,
they are one. 
There is nothing to it, shadow dancing, 
just sunlight and skill on a white washed wall
and love and passion written there 
in invisible ink by the Greek music 
with the lavouto, the tambouras, tzouras
and baglamas, of course.