Lake Musings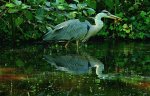 Sun, 14 Jun 2020
This was a poem I put on
under the name
Featheredwing
in 2018.
Inspired by a weekend
spent down at lake
fishing.
I often wonder!
How flies Heron
across peaceful
lake?
Majestic grace refined,
pausing only to reflect
as golden rays shimmer
between dancing leaves.
Perched upon
fishing berth
this balmy
summer's day,
enthusiastic anglers crouch
like intrepid toads,
line's taut
primed engaged –
their addiction
fling with carp,
were they
too flighty?
Unlike bird
who stands serene
waiting on
the prize.
Sitting here with creative muse,
verse and rhyme
assured nature's good intentions;
encouraged by her beauty,
but for that murky lake
that ripples
where
fish cluster beneath,
glimmer of hope
believe persistent
fishermen...
so presumed.
Pixabay free photo.