Echoes Of History : The Grandkids Go On A Tour Of London : (Year Zero + 20): Section 1
Image: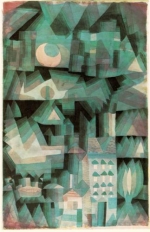 Wed, 08 Jul 2020
    "Why are we going there?" asked Samuel.
    "Because this is where a lot of the history of Britain happened. It used to be a very exciting and trendy place to go to when I was young!" said Grandma.
    "Oh Gran, do we have to? That's what you said last time, and it was really dull and boring. There's nothing there!" said Rebecca.
    "But that's just not true. There is plenty to see there. We had fun last time didn't we?
In answer Samuel and Rebecca both pulled faces.
     Gran was a bit upset but tried not to show it. Rebecca, knew they had upset her, and felt guilty for it, although Samuel was quite happy to be a bit cruel, because he didn't want to go to boring London again. Gran went on as if it really was the most exciting place on earth. He supposed it was because it had been in the days of her youth. .As she had said it was a place of great history, lofty and ornate historical buildings in those days, but the Race Relations Revolutionaries had done their best to bring it down from the pomp and circumstance of her youth. She had actually been one of them, but she could remember what it was like there before Year Zero, the new age of fairness and reason, because she had been a bit older than most of the Uni Students who led the demonstrations. Now London was not so exciting. The tourists had gradually stopped, not finding sufficient of interest to be worth coming to the famous City. Black and ethnic people still complained about not getting the right positions that they deserved in the big organisations. Not enough of them got to the top, but neither did most 'white' people either, whether they were native British or relative newcomers from any of the many eastern or southern European countries or elsewhere.
     They did go, in the end, to be nice to gran.
     "Okay, what's this statue?" asked Samuel, looking at a bronze statue of a beautiful black woman in one of the main squares.
     "I don't know, I can't remember. I remember what was here before, even though I can't remember his name. A soldier on a horse. If it was still here I would have remembered by now, but I would have to trawl through the internet to find anything on it now but I would probably need to get the name or the battle or war he was in to get it."
   "Oh well Gran, I am sure you'll remember it again eventually," consoled Rebecca sympathetically. She had no clue what the earlier statue must have been and she didn't really care. It was all a long time ago. If Gran could have remembered a good story she might have found it interesting, but the trouble with Grandma was that she couldn't remember very much these days, and with no physical evidence of the places and things she vaguely remembered it just wasn't all that interesting.
   "There is a plaque for this statue anyway. That should tell us who and what it is," said Samuel.
    "Well okay, let's have a look," said Gran.
     Rebecca was first up to it. "It says this is Umbra Karembia. She had some hit records in the 2020's apparently. A record called Umbrella Face!"
    "Of course that was a long time after physical records were being sold. I don't remember that," said Gran. Somehow none of the recent famous artists stayed famous for long, and although many of them were very good, she never remembered what they were called without a lot of prompting from her mobile phone music apps.
    "She is beautiful, I guess," remarked Samuel, and indeed she was, voluptuous and strong looking.
     Gran was surprised at how willing her grandson had been to show his appreciation of the statue's beauty, but she could see his teenage embarrassment. He was quite right, she was a strong and beautiful woman, but not really a major star. She had already long forgotten who she was, and what did she really have to do with the history and development of London?