Rain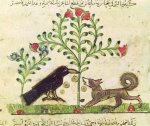 Thu, 06 Aug 2020
A fox knows the eye of a crow well, senses the watch of one -
even mobless they can be sharp-beaked and fearless.
Who can blame them, the fox does not -
he, who knows the egg and earthworm, and
like the noise of rain or approach of hooves
under the call of human terror: a fox knows when it's wise to hide.
We huddle from rain too, but even sheltered inside
I will shudder when it thuds on panes
as if it wants to get in,
as if it wants to take everything like a bailiff,
like a fox, I will retreat.
Today it was the fall of words, too fast for comprehension and I opened my palms to break the flow, but
fingers have too many spaces, they let it all go, seep into the soil, to finally be silenced.
A fox knows what it needs to: crow, egg, lair, worm,
rain: any more would be a burden.
And when dusk sequesters, trusted to darkness - 
I see how the fox emerges as if he is a confession,
slips into the slow burn of cold light in quiet declaration of himself,
and I say, the next time sadness orbits me like a moon,
I will plant my feet in this earth, grow roots,
I will observe how water joins water,
realises the clarity of itself in new rivulets, to wonder,
unlike a fox, when all this knowing became knowledge
and how knowledge shifted to shame.
Image is from wikimedia commons: https://commons.m.wikimedia.org/wiki/File:Fox_and_crow.jpg