Flamingo Hotel. Bookings Now Open.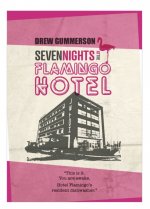 Wed, 02 Sep 2020
My novel, Seven Nights at the Flamingo Hotel is now available to pre-order. 
You can do it here.
It will be Bearded Badger Press's launch title and will be out in mid-November 2020.
Flamingo Hotel appeared on this site between October and December 2019. It received 29 'cherry awards', 5 picks of the day, 2 story of the week awards and the opening chapter was also story of the month. 
I know this because I have kept all the notification emails. It never hurts not to forget praise. 
Prior to posting Flamingo on here I was at a low writing ebb. 
Seven Nights had been in a drawer for a number of months. I wasn't planning on opening it up for bookings.
But  it was the enthusiasm and encouragement from readers and editors on the site, and Kurt Vonnegut's wise words, 'literature should not disappear up its own asshole' which made me dust it down and buff it up. 
How I came to send it off I wrote about here. 
But I'll say it again, Flamingo Hotel, is an AbcTales success story. 
And so it goes. 
Because I like to know about this kind of thing, about other writers I mean, this is how I wrote Flamingo Hotel. 
I did it sitting here. 
That's my kitchen. We bought the table when we moved in 6 years ago. At 43 it was my first house purchase. 
It was also my first table purchase. 
The table is a Henry VIII Banqueting Table. Although it can only comfortably sit four. 
Six if two of those people haven't followed Vonnegut's advice and disappeared up their own assholes. 
So Henry VIII could have sat there with one of his wives and a couple of mates. 
(For those of you that don't know Henry VIII was once King of England. He is famous for having 6 wives and chopping the heads off of a few of them. Being King he didn't do this himself but got one of his subjects to do it for him. 
That's a king for you!
In short, the Kings and Queens of England have come from a small number of families who over 100s of years have collected money from the poor in order to build castles and to generally feather their nests.
And to thank the poor they have raised them up in armies so they could go off to war, and very likely die, to fight over a thing called a crown. 
A crown is a kind of solid hat which the person who has collected the most money and killed the most people is then entitled to put on his / her head. 
This kind of nonsense goes on to this day.) 
I write only in the mornings. I do this on a Word app on my phone. Sitting at my Henry VIII table. 
Flamingo Hotel was unusual in that I had no idea of a story arc. All I knew was that it had a character 'you' and that he was a dishwasher in a hotel and that the story would take place over seven days / nights. 
I wrote it as sketches. 
I wrote dozens of them. 
When I came to edit it, as I was going through each day, if the sketch didn't fit a particular day, I would push it back to a different day. 
So in the end it was like putting together a jigsaw. And somehow, because I had been thinking only about this dishwasher's life, the novel became his history. 
Not the history of a king or queen. 
And no big battles or rich people. 
Flamingo Hotel is about poor people, at life's edges, clinging on for dear life. 
I wrote a blurb for the book:
You could have been someone, you could have been a contender, yet instead you ended up here, a dishwasher at the Flamingo Hotel. From the death of your mother, to homelessness, to insanity, and back again, to an encounter with an American serial killer, a love affair with a performance artist, to the loss of your foreskin, to living in a shed, and certain bum operations, you have only ever wanted one thing. 
To find someone worse off than yourself. 
And now's your chance. 
You've got seven nights.
At the Flamingo Hotel.
"So much of what happens in storytelling is mechanical, has to do with the technical problems of how to make a story work," so Vonnegut writes. 
Crime books end in shoot outs, he says, and people go gaga when two people fall in love. 
Flamingo Hotel isn't a police story, and it's not a love story. 
If anything it's a rags to rags story. 
Getting from one rag to another in the best way you can. 
So if you buy it expect some rags. 
You won't find any kings and queens. 
Not one. 
Thank you. 
 
You can read the (unedited) opening of Flamingo Hotel here.