Something You'll Have To Live With (3)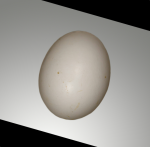 Mon, 28 Sep 2020
When the families saw that it was Peter Halloway before them, they ceased hostilities and stood to attention as though they were army recruits and the general had just stepped into their barracks.
--Ah good, it's Halloway, said one of the fathers.  You can sort this out.  We got the creature.  The Muckians did.  My lad here located the awful thing. 
--Ah, you did in your hole, said the other father.  It was my lad who did the killing.
--We had dibs on it.
--Will yous all give over, Halloway interrupted.  If it is indeed the creature from the egg, both families can share in the glory.  Sure that's the photo-getter for the newspaper over there.  She can line yous all up now if yous want.
Sally turned:  Ah, hold on.  There'll be no photographs yet.  We're not even sure this is the thing we're after.  Actually, I should say we're confident it isn't.  Tell them, Doctor.
--She's right.  This is just an otter.  A sizable one, I'll grant you.  But that's all it is.
Peter Halloway leaned in to get a better look at the cadaver and nodded cognisantly. 
--Jesus, it's a whopping great huge one, isn't it? 
Then he turned to the O'Hares and the Muckians and said: There's no honour in killing an otter now.  They're a treasure of our natural world.  And a protected species, I might add.
--Ah, go easy, Peter, said the Muckian father.  Sure the wee lads didn't know.
--I suggest you lot skedaddle out of here.  Celebrity's waiting for you all if you catch whatever it is, wherever it is. 
The two families pulled a few sheepish faces and started herding off in a cloud of muttering. 
--I suppose I'll have to dispose of this poor creature now, said Halloway.  I knew something or someone was going to get it with all the excitement.  Sure, they'll have the whole ecosystem wiped out before the day's gone. 
Before leaving, Sally raised her camera to take a picture of Halloway next to the dead otter, but in a moment of compassion, she paused and relented.  Although it was a spectacular image, there was something deeply sad about the murdered animal and she couldn't bring herself to exploit it.
--You must see terrible things like that all the time, she said to Dr. Ryle. 
--Occasionally.  I saw an oil spill once.  And the effects.  I've seen dead otters in the past. 
--They're always dead when I see them.
--Well, you should get out and see nature more, Sally.  Seek them out when they're alive and well and wanting to be seen.  There are plenty out there, you know.  Just waiting for you.
--Ah, maybe.  I certainly don't want to die all crumpled up and alone like that.
When they got back to the bridge, Dr. Ryle looked up at the darkening sky once more, hoping for an unfamiliar sight to fly overhead, but again, there was nothing. 
--It's getting late.  I think it's time for me to leave.  I can do nothing more here.
--You got to do what you got to do. 
Outwardly, Sally was her usual brusque and nonchalant self, but inside a mournful soliloquy was being read on a Spartan stage to a progressively disinterested audience.  She didn't want the doctor to leave.
--Will you come back?  I mean----in the interests of science.  When we find whatever it is, you'll want to analyse it, won't you?
--Absolutely.  However, it will probably be out of my hands by that time.  And truly I've things to be getting on with in the next town over.  But...maybe....maybe sometime I'll come back.
There were things Dr. Ryle wanted to tell Sally.  Not only had she become his accomplice over the course of this strange investigation, but he'd grown extremely fond of her, and sensed that she might be as attracted to him as he was to her.  So he felt it only ethical to tell her of Emma, a fellow academic in the college in the next town over, and his fiancée of one year, and of their plans to finally wed in the coming autumn.  He wanted to inform her of this, yes, but also of other things.   It would be fine if he could share with her his knowledge of another egg that appeared two years earlier on a beach in Wales, next to a sombre and uncherished town much like this one.  He would be happy if he could tell her that many of today's events had come to pass in that town too, that the egg had broken open one day, and whatever was inside had escaped – and was never found.  But he'd been restricted from reporting this previous event by powers higher than he and would go on in silence – until whatever they were were found wherever they were.   About a great many things, he would go on in silence.
--Well, it was fun while it lasted, Doctor, Sally told Ryle after walking him back to his car.
--Please, call me Gilbert.
--Okay.  Gilbert.
--You're a great girl, Sally.  I hope those photos make you a million someday.
After Dr. Ryle drove off, Sally turned and began the dreary walk back to her two-room apartment above a going out of business arts supplies store while around her the voices of her intrepid fellow townsfolk jabbered back and forth in the dark.
What did you see?
I don't know----something.
Me too.
You saw it too?
I think so.
Where was it?
Out there.
Where?
Or maybe not.
Sally Kneale was no longer intrigued to know or comprehend or conceive of what was out there, but all the same, she stopped at the beach before going home to have another look at the egg.  She was sick of taking photographs of it and now had a good mind to run over, grab a big rock, and smash it to pieces.  Get all the frustration and umbrage out of her.  It might have improved her mood, but she decided against it, as that could get her into trouble----she didn't want all that drama in her life right now.  She would go home and bide her time until she'd enough money to move to Mayo and buy a little cottage there.  Under the Sheeffry Hills maybe.  If, that is, she survived the utter devastation of the town rumoured to come once whatever it was gained latitude.  Hopefully it wouldn't be fully grown for a while and she would get out of there before anything happened and then it could go on ahead and wreck the place with her blessing.
As played out, the town would not be devastated.  The search continued to no avail for many days after.  When Wildlife Services arrived, a more thorough search was enacted, but again, nothing was found, and the egg finally was removed from the beach and brought to an undisclosed location, never to be seen again, except in some photos that appeared in old newspapers.      
There were other unwarranted murders of innocent animals in the weeks and months to follow, along with instances of mistaken identity on dark evenings – you might have got a belt with a shovel if you were near someone's property late at night and they couldn't see you clearly.  The peculiar blood lust of that first hunt didn't last-----but even if it eventually waned, the anxiety never did.  The people of the town were stuck with a crippling dread all the time, everyone forever looking over their shoulders, uncertain of what horrors lay behind them each day since the egg.  To this day, they remain haunted by the missing hatchling.  From generation to generation, the fear persists that one day a creature of unknown origin will suddenly jump out and get them all.  If you ever go to live in that town yourself, regardless of whether you have read this story or not, this is something you will have to deal with upon arrival.  The hatchling.  It's just something you'll have to live with when you get there.
Boo had become bitter of late, jealous even, as Master John's 'guest' settled in the house.  Walks were less frequent these days.  And even when they did occur, Master John never threw a stick for him to fetch on the beach. Not anymore.  Shame.  Master John was too preoccupied, and just stood looking out at the sea, with an expression on his face that declared vacancy.  Had there been vacancy in their life together before the guest?  What had the 'guest' done to his master?  Boo had thought he was all Master John needed.  When he first arrived, the house was cold and reeked of human sorrow.  Boo soon filled it up with a dog smell and fixed all that.  Why did Master John have to bring that 'guest' home?  That day, the final fetch, was a strange one for Boo.  After picking up the stick, and splashing about in the water for a bit, as was the customary thing, there was a bright light behind him and a flashing sound like lightning, and when Boo turned to his master, he saw him on his knees in the sand as the 'guest' crawled out of the big white shell. 
Outside the invaded residence, with the fervescent town forgetting itself and its place gradually, and killing with extreme ignorance, Boo was at least safe inside with Master John's 'guest', who at least respected the dominion of dog.  Prejudiced as he was, Boo was able to see that Master John took comfort in his 'guest' being there.  So Boo learned to roll up in the living room and deal with it, even if the 'guest' tried to rile him, and often the 'guest' did, shouting BOO all of a sudden as he was entering sleep, for instance.  Boo chose to let the house go on in a happy way.  And it did.  For as normal he could piss and piss and piss wherever and however and over whatever he pleased.  And Master John, being so used to his trusted brown mongrel, was oblivious to the smell and blind to the stains, so if anything was true, it was that the 'guest' would have to deal with Boo.  And that's something you'll have to die with, my friend.