Widdershins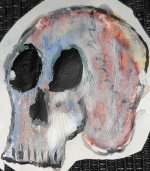 Sat, 31 Oct 2020
Gene resumes digging the grave.  It's raining hard and he supposes he should be thankful for the small mercy the water brings of making the ground softer than it might have been.  But small mercies are few and far between and when all is said and done, a grave is still a grave.
Fresh earth hangs in his nose, sometimes sweet, especially after rain.  Sometimes sour, like the smell of someone's breath who has been woken up quickly and unexpectedly in the morning.  Although Gene lays the earth on the tarpaulin as he digs, this is only temporary.  He's taking nothing away – every clump is going back into the hole.  Actually, he's adding to what was there.  The dead make for rich soil.  Some of the living grow tall, reaching away from their grasp.  Others, Gene knows, do not.
Gravedigging is in his blood, in his bones.  From grandfather, to father, to son.  This job holds him to the little town of Reverence and its people; roots him to the land.  Gene takes nothing but his meagre pay and leaves the dead where their people can find them. Sleeping, serene. 
And now it's Cassia's turn. But the truth is he can scarcely bear to think of it.  In her last, few weeks, she'd asked him again.  "Little brother, you know it has to be you.  No-one else, but you – it just wouldn't be right." And he'd nodded his head and he'd promised.  When the time came (and time can move with such quick cruelty), he'd dig the hole for his sister and he'd lay her in the ground.
When she'd died and her body had been moved to Sheehan's Funeral Home, he'd sat at their kitchen table, awash with the loss of her.  Her death had been a gradual thing – a diminishing month after skeletal month - but now she'd finally gone, her absence drowned him.  He couldn't breathe, waves crashed around his head so he could hear nothing and the salt water from his eyes almost blinded him.  And the thought of burying her in the ground? It was inconceivable to him.  Usually, the soil was a blanket, or a childhood quilt for the dead to bury their heads under in welcome shelter from a hard life.  But for Cassia, for his sister, it was a shroud.  A winding sheet that wouldn't allow her to draw breath or move if she needed to.
The hole would be too small for her, the graveyard would be too small - she might suffocate.  She needed to be back home with him.
Over a few weeks, the intensity of his thoughts faded a little and after gentle prompts from the funeral home who needed the space and the pastor who needed the ritual, Gene came around to being able to do, if not the right thing, the only thing. And this, he knew, was what most people do most of the time.  Besides, he'd worked with death for so long, that he accepted every action we take in life, however big or small, is about staving death off.  About avoiding the hole.
So, Gene digs within the wooden frame that serves as a template for his sister's grave.  He's still using the sod cutter, but when he digs much deeper, he'll need to employ the back-hoe loader.  Seven feet down is a lot of earth to shift.
He'd visited Cassia in the funeral home, even though he'd told himself he wouldn't.  They'd done a fine job; although something else he'd learned over the years, was dead (however painted and padded) never looked like alive.  Gene had seen she'd still had the bangle on her wrist that their momma had given her a lifetime ago and for a few seconds, he'd considered pulling it over her stiff, little hand.  But then he'd thought, it wasn't his to take.  The dead need some possessions to keep.
On the inside of her arm, he saw his name – faded, but still there – scratched in her flesh. They'd written each other's when they were kids – part dare, part unity and love. And here, they still were.  Scars that were testimony to something.  Little, silver fishes of possession.
The funeral comes and goes as funerals do.   A goodly portion of the town turns out for it and Gene supposes he's meant to take some comfort from this; but he knows the town's folk well and their attendance is only surety that people will come when it's their turn.  A kind of future mourning for themselves is how he figures it.
Gene has buried Cassia widdershins, or against the way as it used to be known.  He didn't want to wait until judgement day for her to get up if there was a chance she could sooner; although the pragmatist in him (and every gravedigger is a pragmatist at heart) knows the real chance of Cassia, or anyone waking, is very slim.
In the evenings, he's got into the habit of visiting her in the graveyard, worrying on the knowledge it'll be a good while before he can afford her a headstone.  There's a deeper part of him that's a little relieved at this also, because a headstone seems so final.  Here, by her grave, while the earth settles, everything is transitory.  Not a grave, but a hole for burying treasure.  A hole for planting a tree.
Some evenings, town's people walk by and Gene passes the time with them.  A regular walker is old Aaron Hill, the carpenter and candlemaker, skillful and wily enough to sell his craft to the arty shops for tourists that have begun to spring up on Reverence's main street.  Gene had dug a grave for Aaron's wife two winters back and Aaron was still grateful.
"I can't thank you enough for what you did, Gene", Aaron says as he stops by on the way to visit his wife.  "She sleeps soundly in a comfortable bed and for that, I can only share my appreciation."
Gene smiles in response and crumples at Aaron's kind words.  He speaks, despite himself.  "I miss Cassia so much", he says.  "I want her back."
Aaron Hill shuts the gate to the graveyard behind him, thinking Gene is a good boy, but a lonely boy.
Over the weeks, as the freshness of late spring spills into the ripe languor of summer, Gene becomes aware of someone present every time he goes to visit Cassia.  Always at a distance, standing in the half-light, somewhere behind him by the church's faded clapboard back.  Gene is unsettled and entranced.  He can barely dare to presume and yet somewhere there too, he feels revulsion.
Yet he knows what he knows and through his mind runs pictures from their childhood.  Of mockingbirds and apple blossom.  Of tall pines and honey bees.  Of pecans freshly picked and bowls of sweet milk.  And of the deep, lazy river running through the fields.  Always of the river.
The stance of the woman is perfectly still and the quality of this stillness makes Gene think of the precise, intense concentration of a hunting cat.  She is strange and familiar together.  She unnerves him.  There is something uncannily human and not so about her.
When night falls, Gene goes home with his mind still full of her.  He considers taking his shaving mirror with him to the graveyard next time, to capture her reflection in.  He knows old stories say you can capture the dead in a mirror, or is it that the dead can capture the living in one?  Overall, he thinks he doesn't much mind which of them gets caught in the glass.  Either way, they would be together again. 
But mirrors are willful, slippery things, Gene thinks.  They capture what they choose to and make the things you think you recognise seem oh so strange.  Like the back of your head, or the astonishing vulnerability of your neck.
Besides, even if he could get closer to her or dared to, what could it be he would actually say?  Are you tired?  Are you cold?  They've been beyond words all their lives, but he would feel the need to say something. Yet he guesses the conversation could be as incongruous and jolting as the green of oak trees in Reverence's blue evenings.
One, stay at home Sunday, it's rained for hours.  A wild, stormy day – hot and electrically charged.  Gene has spent it with the kitchen door open, looking out at the rivulets of water dashing down his sunflowers., lightening regularly illuminating their dark faces.  Then, over the course of the afternoon, the storm blows itself away, or at least blows itself somewhere else.  And Gene makes some decisions.
He'll find the confidence to get closer to her.  He'll make a fire in the clearing by the graveyard and he'll invite her to come warm herself.  They can sit together like they have so often and talk about what needs to be talked about.
Dusk is long and slow in a Reverence summer and as Gene walks to the church, he already feels night, when it comes, will be inky and starry.  He's gathered kindling and will make the fire far enough away from the church's wood not to burn it, but near enough for her to feel comforted by its heat.
As he lights the fire, he doesn't look round, but he knows she's there.  The flames lick, then roar.  What makes Gene turn around in the end is the dripping sound and then a more constant one, like the sizzling of fat in a pan.
On the ground behind him is a large pool of wax, the shape of a head still vaguely there.  It reminds Gene of cartoons when they were kids, when Jerry bashes Tom's head in with a mallet.  Her dress has discarded itself of necessity and lies in the wax, like she's wriggled it off.  Gene thinks of a dress he'd seen, discarded like that, the one time he'd visited Reverence's whore house and not been able to follow through.  Cassia had guessed where he was going and shook his head at him when he got home, but she didn't need to say anything.  She never needed to.
So, Gene guesses he owes Aaron Hill - master worker in wax and kindly soul – some gratitude of sorts.  Some things don't land right, some things can be ill-advised, but kind intent is still kind intent.  Thankyou, Aaron for thinking of me.  Thankyou, Gene whispers.
Gene wonders what he can hold on to now.  Not the dying fire, or the wax pool of nothingness.  Perhaps the certainty of the grave is the only thing?  The fields by the graveyard are rustling and murmuring with the wind and birds going home to nest in the trees.  Something he can't see must have startled the birds, however, as there is a sudden, explosive movement of starlings rushing into the air currents.  These currents also cause the fire to give out one last gasp of energy.  Starlings dance and chatter in the fields. Motes of soot dance in the graveyard.
Above Gene's head, this will be a night for glittering stars and comets.  But for now, what Gene sees is a sunset so beautiful, it could make him cry.
*