Purple, Black, White and Red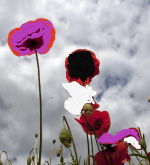 Wed, 11 Nov 2020
2 likes
Purple, Black, White and Red
Why are you wearing a purple poppy,
For aren't they supposed to be red?
    I wear it for animals lost in wars,
    All of those who served, died and bled.
Why is there a black poppy on your coat,
It stands out so much from the rest?
    I wear it for those communities who
    Should also be equally blessed.
Why is your poppy as white as the snow,
A ghost in the heart of your chest?
    I wear it to show that I'm seeking peace,
    That war should be laid down to rest.
    Whatever the colour you choose to wear,
    Be it purple, black, white or red,
    Wear your poppy with pride and love, my child,
    Remember and honour the dead.
Jennifer Pickup (11.11.2020)