The Woolly Mulligans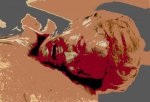 Thu, 19 Nov 2020
ENGLISH FOLK SINGER:  Oh my. A red-head.  And not a grey to be seen.  If I wasn't currently at spiritual ease with myself, I'd be envious.  How on earth has the hair stayed so red all this time?
ARCHAEOLOGIST:             That would be the sphagnum, a bog moss that is known to tan the body and redden the hair.  All the bodies found so far have been red-headed, I believe.  Even as far off as Denmark.  It's not just an Irish thing.
CAMERAMAN (with glazed eyes):  Brilliant!
FOOD CRITIC:  Just rotten, rotten.  I thought we'd come together to escape our bodies, not dig more up.  It gives me the willies, it transmits a ghoulish energy.  I suggest we all go home and do mind-cleansing.  I mean, why are we standing around gawping at this thing?  We haven't even picked a single cranberry yet.
COGNITIVE THERAPIST (excitedly):  Found some over here.
FOOD CRITIC:  Oh, well, that's something.
ARCHAEOLOGIST:  How can you be so flippant about this?  What we have here before us is of utmost historical, geographical, philosophical, civil and societal importance.
FOOD CRITIC: I am sorry if I don't get at all whoopdedoo about finding...what appears to me to be a glorified mushroom.
ARCHAEOLOGIST (in shock):  A glorified...? 
ENGLISH FOLK SINGER: This negative energy doesn't do anything other than lead to a negative form of energy, people.
ELDER (slowly, commandingly):  The land cries out for our attention too.  We must tend to the land and its contents as we tend to our inner selves.
 Everyone took out their notebooks and wrote this down, and even though a few pens didn't work, they pretended to write it down anyway.
ARCHAEOLOGIST: This is a significant find.  These bog corpses are not dug up every day.  I would say we are fortunate to have stumbled upon it, to be perfectly honest.  We can't just leave it here.
FRENCH NOVELIST:  How old is it, do you think?
ARCHAEOLOGIST: Oh, 27,000 years or thereabouts?  But I could be wrong.  I need more time to study.  There will be resins in the hair that can tell us much about his age and origins.
FRENCH NOVELIST:  Ah.  How can you tell it's a man?  Its condition is so shrivelled. I can't see any defining sex parts, can you?
ARCHAEOLOGIST:  I can't tell for sure, I suppose.  Hard to make out the pelvis.  But I'm guessing from the height.  In life, this body must have stretched out to 6 foot 4.  And look at the span of those arms.  Now a giant female it could certainly have been too...
ELDER:  What is that hanging over the feet?
ARCHAEOLOGIST:  I believe it is clothing.  Perhaps a long robe of some kind.
ENGLISH FOLK SINGER:  I have a song about a bog body...
ELDER:  Songs may already have been written about this man.  For all we know, the whole canon begins here.
FRENCH NOVELIST:  I wonder how he or she died.
ENGLISH FOLK SINGER:  Would you like to hear my...?
ARCHAEOLOGIST: These bodies have commonly come to their end through violence.  Murderers tend to dispose of their victims in secretive, watery places like this.  This has always been a thing.  Sure you only need to read the papers everyday to be knowing that.  And indeed there were ancient cultures that measured their swampy lands by the punitive worth they had for their criminal justice systems – the bog was seen as a sort of prison for the soul.  Because the bodies couldn't decompose naturally, it prevented a toxic spirit from making the transition from death to rejoin its ancestors, or to continue spreading evil in the afterlife.  I am seeing wounds on this body now.  As though made by a long spear.  Here.  On the chest.  There on the right arm.  Up here.  On the head.  There on the lower leg.  Also, he might have been garrotted too.  Look at how the neck is twisted.
ENGLISH FOLK SINGER:  Gee, they fairly hacked the poor fellow up, didn't they?
FRENCH NOVELIST:  Ça alors!
ELDER (investing grandiloquence):  Nature has preserved this remarkable progenitor for us.  We came here seeking only cranberries, and we found some, yes, but the Earth saw fit to reveal its long buried secrets to us.  This is a sign.  We must study the body for ourselves.
ARCHAEOLOGIST:  With all due respect, it is absolutely essential that we notify the appropriate...
ELDER:  Poppycock!  We will bring him to the house.
ARCHAEOLOGIST:  Should we not even inform the owner of this land?
ELDER:  That ingrate?  You must be out of your head.  Sure he'll only feed it to his pigs.
Some of the more dedicated members of the group were moved to write this down in their books too.
*
FARMER lived on the other side of the valley.  He lived alone, kept three cows, five pigs, a budgie, and two shotguns. 
Each day, FARMER walked the breadth of the valley, his valley by and large, and he would inspect his bogs, checking that every wildflower, every plumy tendril was still in place, and then he would trudge up into the hills where often he would stop to glare down at the lavish white house of ELDER on the other side wondering what those maniacs were getting up to in there.  Oh, to be rid of that lot and their strange behaviours, he regularly thought to himself.  He was charged with saving the soul of the country.  And if that meant battering to kingdom come every last woolly mulligan there was, so be it.
FARMER shot a helicopter out of the sky once from his back window and was never got for it.  Nobody was killed in the incident, but you don't shoot a helicopter out of the sky if you don't mean to have someone killed.  It's true he was dangerous, and very mean, a right pernicious bastard all in all, but if you saw him in private and the tender moments he shared with that budgie, Joseph, you might have thought differently of the man – just as long as you left out the helicopter.